The New Mary and Martha Fall 2021 catalog is out and I thought I'd share some of my favorites! There are quite a few amazing serveware pieces that will be great for the upcoming holiday season! There are large pieces like a wooden lazy Susan to pretty "Thankful" embroidered napkins with fringe.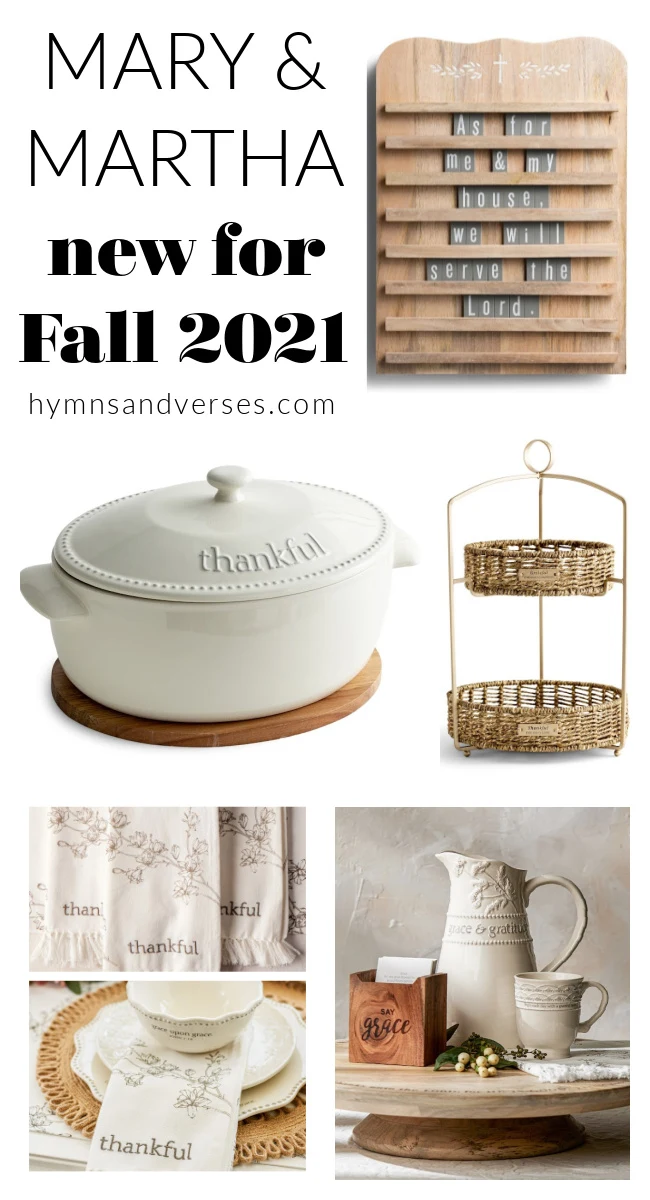 So, here are just a few things that I have on my wish list from the new fall catalog. I'll be sharing some of the new Christmas items closer to October when they release.
MARY AND MARTHA FALL 2021
This mango wood Lazy Susan is really incredible! The size is large at 22″ and is 4″ high with the riser.
The top is engraved with "Give thanks unto the Lord for He is good." Psalm 106:1.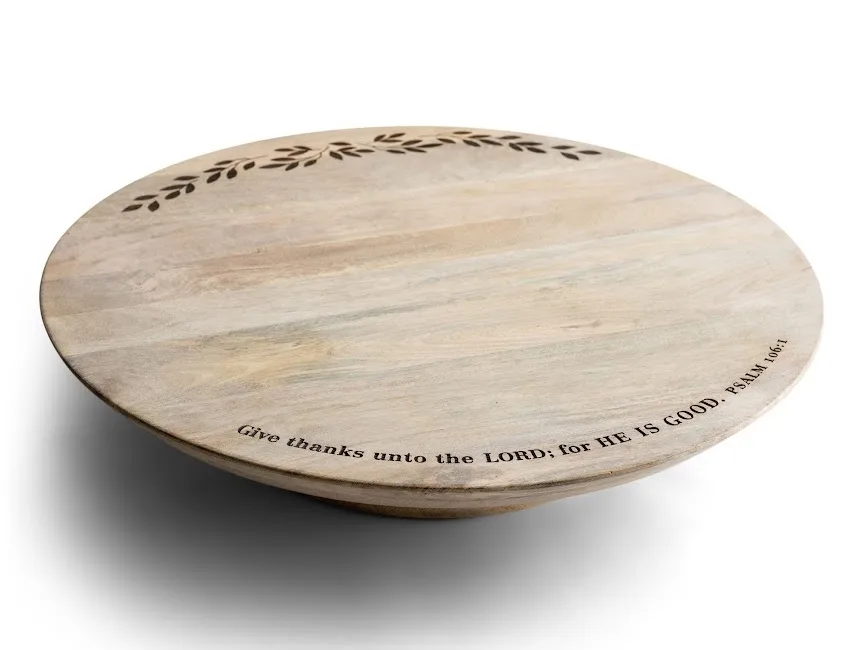 Another substantial piece is this mango wood dough bowl. It measures 21″L x 9″W x 3″H.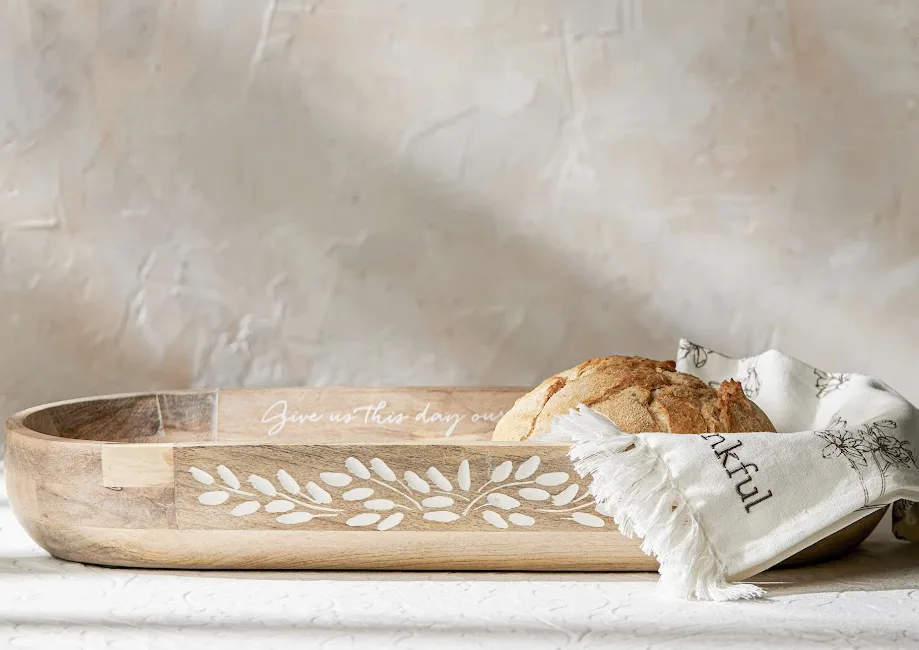 It has an engraved and painted leaf design on the outer edge and inside the bowl is engraved "Give us this day our daily bread." Matthew 6:11.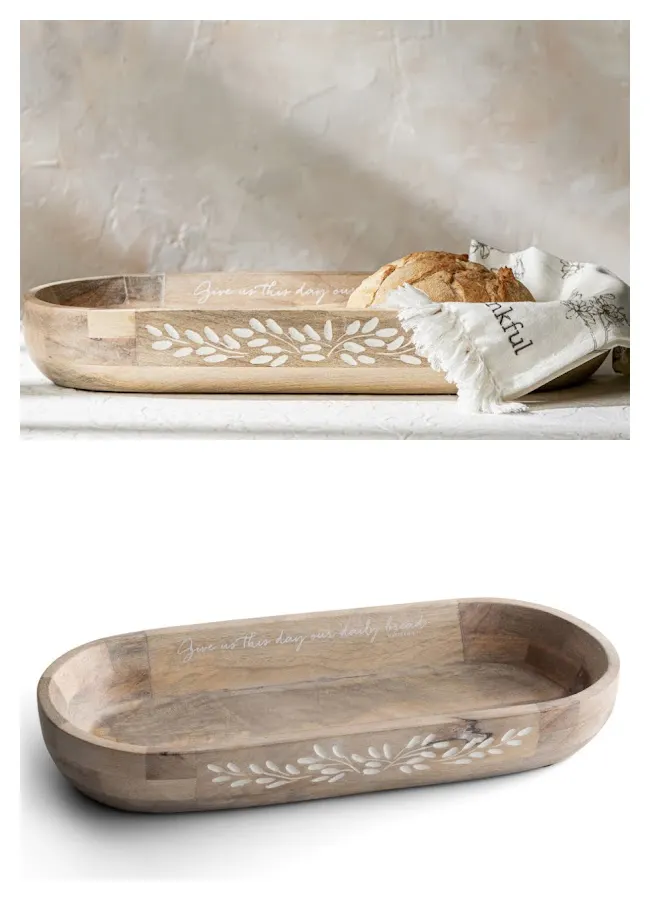 Another piece that I really like for hosting a party is this Simple Joys Serving Board with the additional purchase of the new Interchangeable Fall Plate.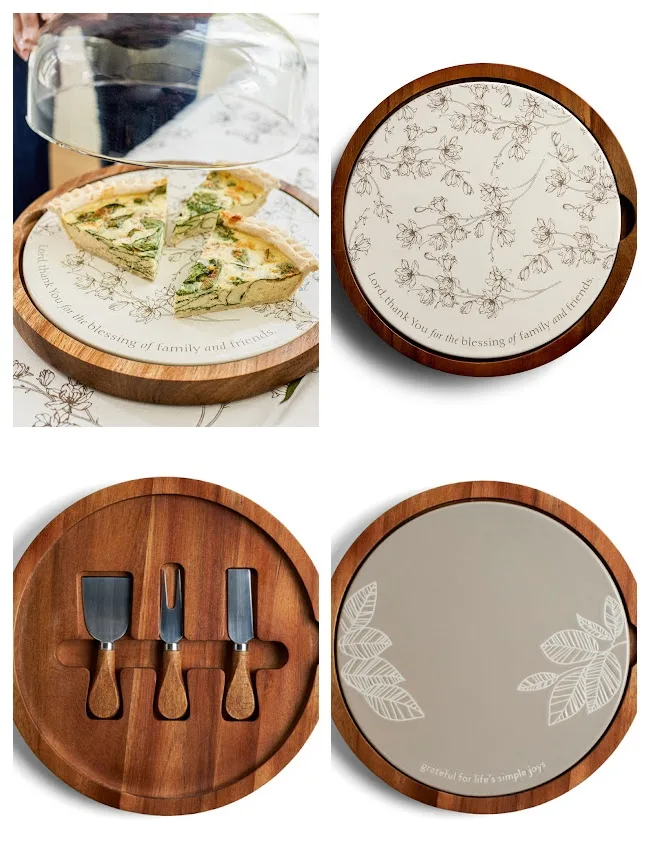 The serving board comes with the gray plate that reads "grateful for life's simple joys". The plate lifts off to reveal an acacia wood cheese board and serving set. But, I particularly like the brown floral design on the new fall plate that reads "Lord thank you for the blessing of family and friends." And, as shown in the upper left image, the glass dome also fits this serving board perfectly! This would make an amazing wedding gift for someone special! The board measures 11 3/4″.
"Lord thank you for the blessing of family and friends" Fall Plate
Next up are these beautiful napkins. They have the same fall floral print as the fall plate shown above and are embroidered with the word "thankful". And, who doesn't love that fringe!
Sadly, Mary & Martha discontinued one of my all time favorite pieces, the Vintage Announcement Board. But, they have added something new that is similar. This new cross Letter board has individual letter tiles so you can create your own message. The new board measures 24″H x 18″W. And, it comes with 145 capital and lower case letter tiles.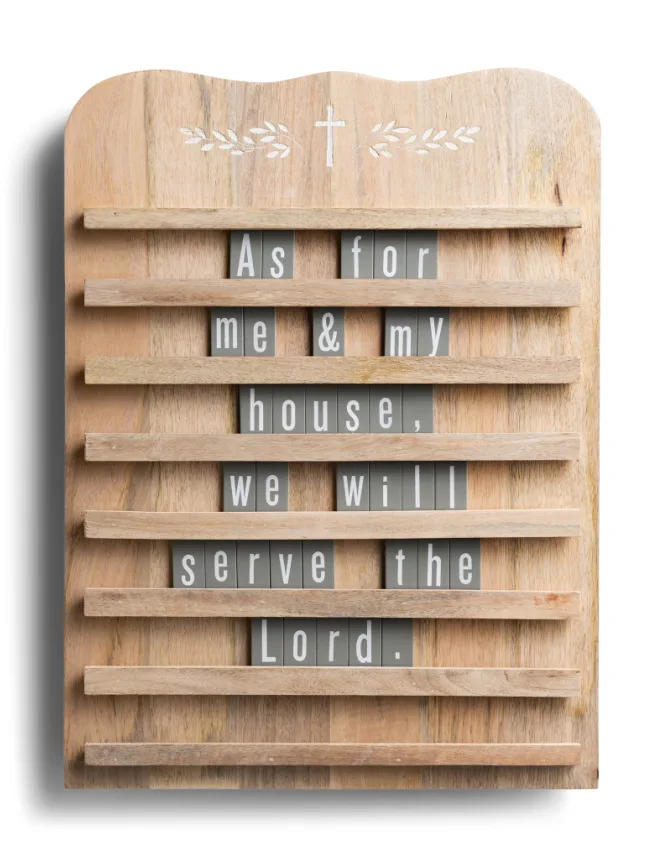 Lastly, there is a new two tiered basket server that is another great piece for holiday entertaining! The top tray has a brass tag that reads "Grateful for God's Goodness". And, the lower tray has a brass tag that reads "Thankful for God's Love". This piece is also large and measures 20 1/2″H. The bottom basket measures 12″ and the top basket is 9″.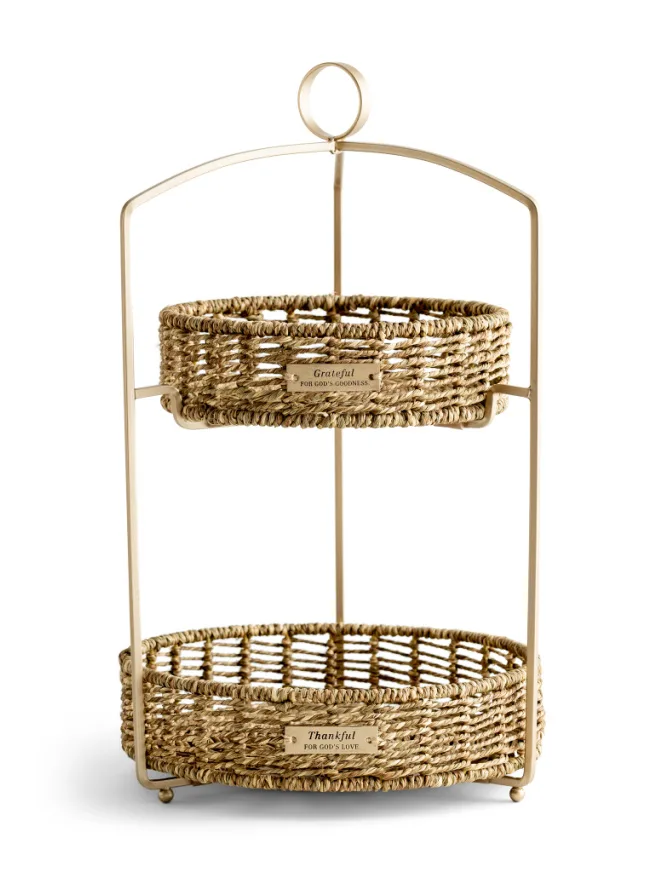 Coming soon
Coming in October is this Grace and Gratitude Deep Dish Baker with Trivet. The Grace and Gratitude dinnerware collection has always been my favorite. I have a few pieces in this pattern. I think the design of these pieces are classic and timeless. This 3 quart baker measures 9″L x 6.5″W x 4″H. And, it is microwave and dishwasher safe. Wouldn't this piece be perfect for Thanksgiving! I'll be sure to send a reminder in October when the baker is available for sale!
Also coming in October is all of the Christmas merchandise. So, I'll either do a post with those items or send an email reminder! In the meantime, the complete Fall 2021 Catalog, that includes photos and information for the new Christmas items available in October, can be viewed by clicking on the catalog image below!
If you have any questions about ordering from Mary and Martha, please let me know. If you are new to this line, Mary and Martha is a Hallmark/Dayspring line. *And, I earn a commission from every purchase you make from my online shop. See my full disclosure statement. This is just another way to support my blog as all the proceeds help with the expenses for this website! And, every product that I've ordered from Mary and Martha has been the highest quality and items are shipped very securely and quickly right to your home!