I held this bee themed shower for my daughter-in-law, Sarah, way back in 2014. It was such a fun shower for me to host. This was the first wedding in our family and I was so excited to share in the festivities!
The plan was to have the shower outdoors on a warm, early September day. That was until a hurricane came up the east coast and spoiled those plans! So, we adapted and held the shower indoors, but it was a dark day, and I wasn't able to capture any photos at the actual event. So, what does any good blogger do? She sets up the decor for a photoshoot!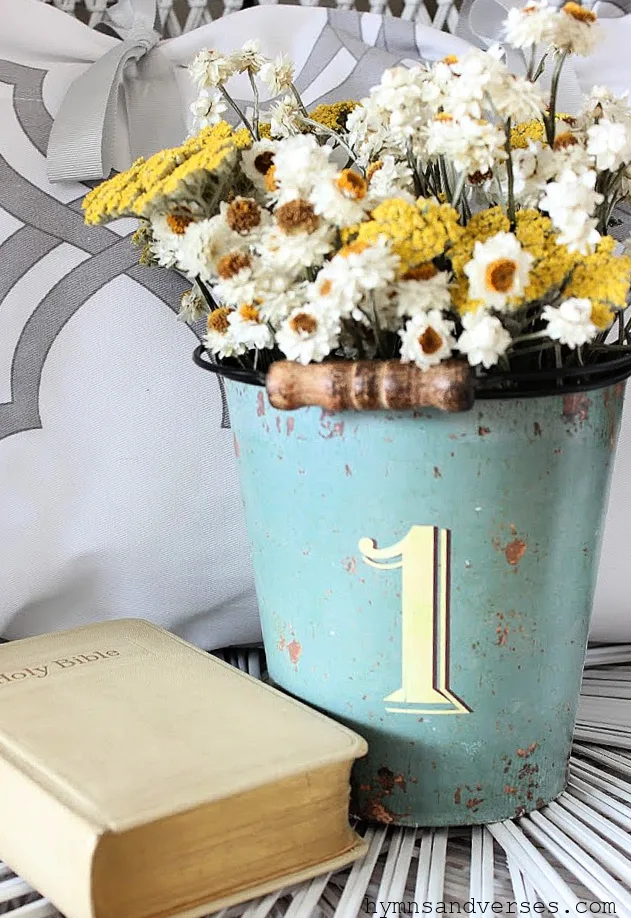 This is another old post that really needed updated. The photos aren't the best. But, I tried to edit them a bit to make them a bit better. It's so good for me to see how far I've come though! Originally, I spread the shower details over three separate blog posts. But, I combined everything into one blog post.
If I were to host this bee themed shower today in 2021, I would probably style things a bit different, but I still do love this idea for a bridal shower! There are so many possibilities! If I were to do this again, I would make small jars of locally sourced honey as favors for each guest with pretty labels!
I made these updates to share this post for today's Home and Decor Encore! Home and Decor Encore is a weekly feature each Friday where my blogging friends and I share a blog post from our archives that our newer readers may have missed. And, it's a way for us to update these older posts too. To see each Home and Decor Encore post, just click on the BOLD title above the photo. That will take you to the original post with all of the details! Enjoy!
WELCOME TO HOME AND DECOR ENCORE
HYMNS & VERSES | BRIDE TO BEE SHOWER
THE STONYBROOK HOUSE | WHITE CHOCOLATE CHIP CAKE WITH RASPBERRY FILLING AND LEMON BUTTERCREAM
DUKE MANOR FARM | WHAT YOU NEED TO KNOW ABOUT A KOHLER PULL DOWN FAUCET
REMODELACASA | EASY TILE JOB WITH BIG IMPACT
OUR SOUTHERN HOME | TIPS FOR CLEANING PATIO FURNITURE