Well, it's the half way point of the One Room Challenge and it seems like I have sooooo much to do! But, I'm actually feeling pretty good about the room's progress. For me, the worst is behind. All of the painting – trim, walls, ceiling, closet – all done! Today I'm sharing what has taken so long – the closet transformation! The closet went from a bedroom closet with builder-grade louvered doors, to a closet with custom shelves and DIY French doors.
You can see the closet before HERE, but this is the after with the new French doors.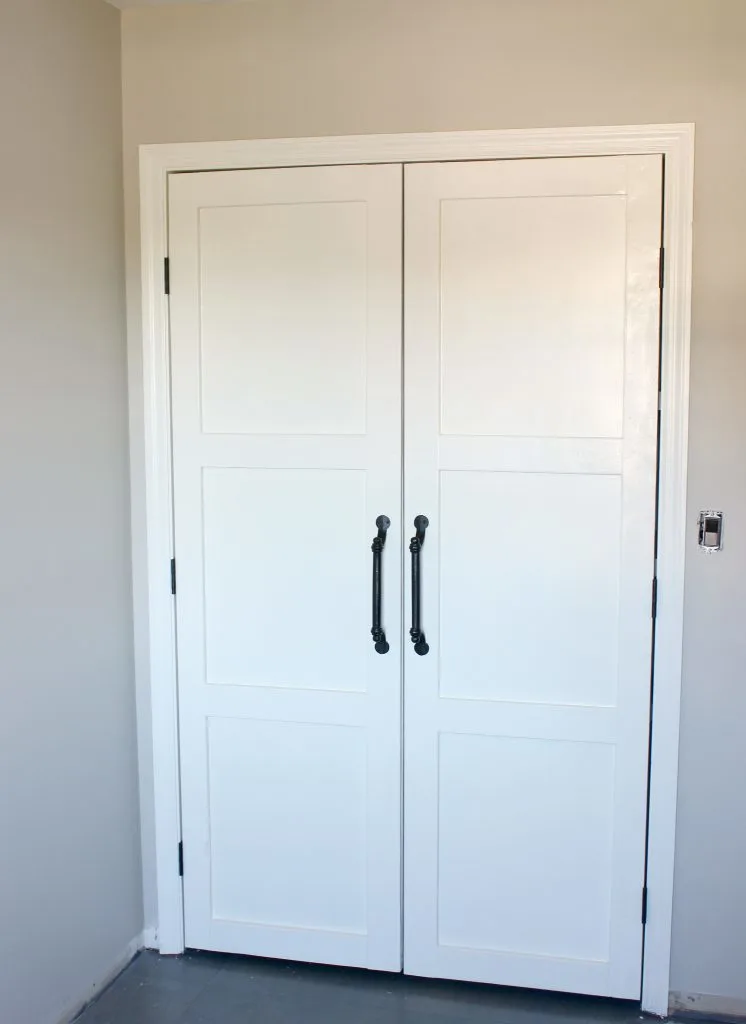 We started with these slab doors from The Home Depot and used 4″ furring strips to create the panels. As I explained in last week's installment, once all of the trim was attached, I used caulk to fill in any gaps and create a clean seam where the trim met the door panel. We used black door hinges and these amazing iron door pulls that I found HERE.
We attached magnetic catches that were under $3 at the top of the frame and top of each door.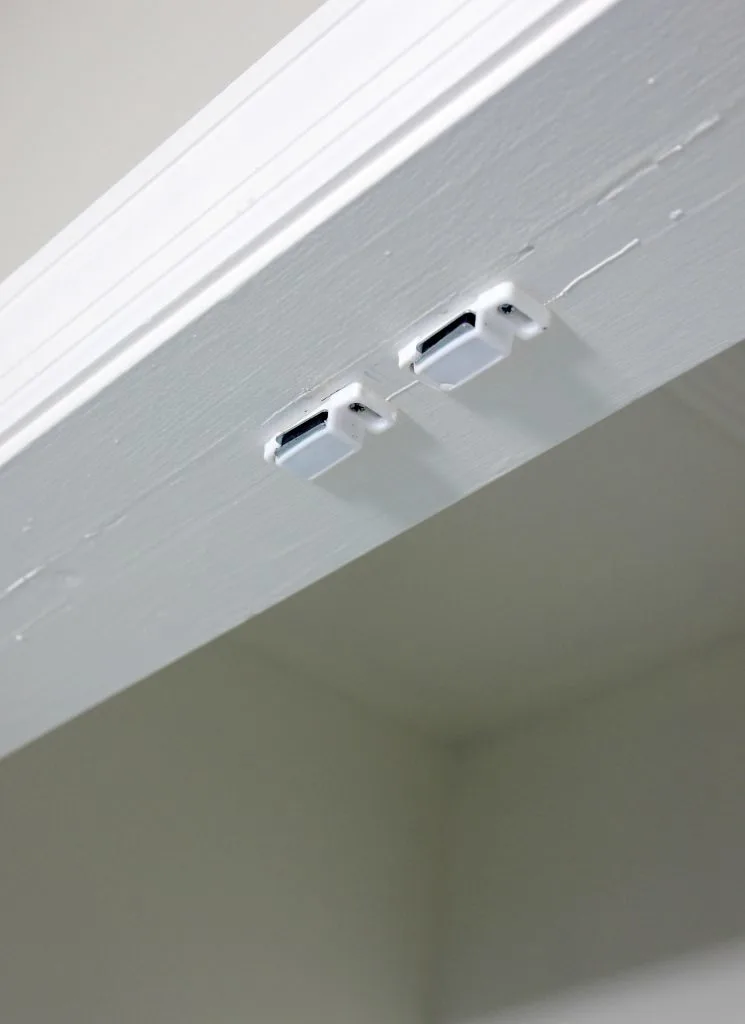 On the interior, we used MDF to make custom shelves. Mark took accurate measurements and had The Home Depot cut the large sheet of MDF down for us – (after his wife took poor measurements and had the MDF cut about 3 inches too short in length!). The top and bottom shelves are not as deep as the two middle shelves. This will make it easier for me to put bigger items on the top shelf especially. We used thin lattice moulding to attach to the front of each shelf. This makes the shelf look like it's really thick!
I have four shelves and the floor space for storage. My hope is to gather most of my home decor that is currently stored in cabinets and closets all over the house and even shelves in the garage and store it all in this closet. Will I be able to fit it all in – I don't know? It may force me to be ruthless and get rid of some of it – especially if I haven't used it in years. I also want to find some large baskets for the floor space to hold my pillow forms.
The paint color I chose for the walls is Benjamin Moore Revere Pewter – big surprise, since I have used this color so much in my home. It's my favorite neutral. Originally, I wanted to go dark in this room – other than the accent wall of wallpaper. But, once I got to the paint store, I decided that lighter and brighter was the way to go in this space and accent with black and dark charcoal. I didn't get the wallpaper hung for this week, but it will definitely be finished by next week's post.
We also decided to install new flooring in this space. Right now, it's an inexpensive DIY wood floor that we put in two bedrooms a few years ago. You can see it HERE. But, once I dripped my first drop of white paint on the floor, it seemed like a good idea to install the same flooring that we have in the rest of the house – except this bedroom and Seth's bedroom. You can see our flooring HERE. We have it ordered and I hope that it comes in quickly so Mark can get it installed before next week! Fingers crossed! Once the new floor is in, we can attach the baseboard. I also ordered hardware for a sliding barn style door for the room's entry door. I'm going to look for an old door with some character to use there! Then, it's furnishing and decor time! Lots to do in a short amount of time, but I'm so excited about finally having my own space that's just for me! Thanks for stopping by today to see my progress! I'd love to hear what you think about the new DIY French doors for the closet!
To see Week 3 updates from the other One Room Challenge guest participants click HERE. And, you can see the One Room Challenge featured designers Week 3 updates by clicking HERE.
I'll see you next week for Week 4!