Today, I have another project to share from the little room we are decorating for our granddaughter! I saw that Pottery Barn sold a doll house book case, but I wanted something a little taller than the one they sell. Also, theirs sells for about $600! So, it was time to DIY our own!
*This post contains some affiliate links. Please see my disclosure statement.
DIY Doll House Book Case
I'll be sharing a full tutorial to make this doll house book case, but today I just wanted to show you the finished piece in the room! This room is teeny tiny and that means we need to be very purposeful about what goes into it. There isn't room in here for something purely decorative without serving a purpose! That's why I wanted this book case to hold toys and books with the ability to be used as a doll house too. And, I have to say, it turned out better than I had hoped!
I showed Mark some photos of doll house book cases that I liked. And, then he took measurements of the space, picked up the wood, and within a few hours had the basic piece built! We couldn't close in the base because of the air vent on the floor. So, he built front legs and then he attached the shelf to the wall studs so there is no chance it can tip over! My part of this DIY project was painting. I painted the entire piece in Benjamin Moore Simply White in a semigloss finish.
Lining the Back of the Doll house with Fabric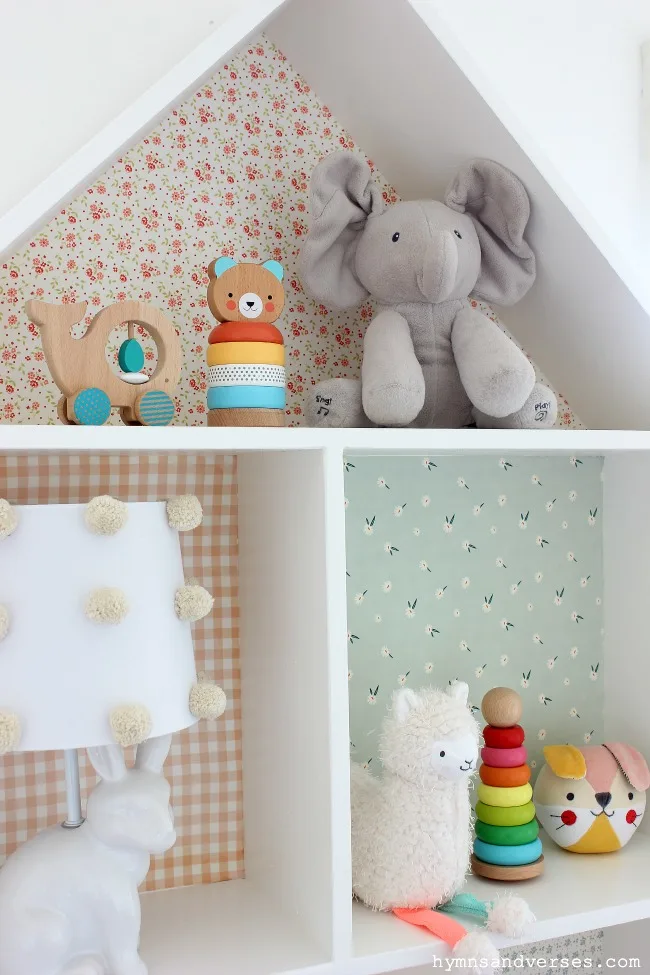 I had the idea of using fabric to line the backs of the shelf sections. So, I headed to a local fabric store and picked out some coordinating calico prints. I played around with placement of the different fabrics and changed my mind several times (ha, ha). Once, I decided what fabric would go where, I cut the fabric roughly to the size of the space. Then, I painted the back of each section with liquid fabric starch and smoothed the fabric piece into the space. Once the fabric was smoothed out and secure in the space, I painted more fabric starch around the edges to seal the fabric.
Once the fabric starch was completely dry, I used a utility knife to carefully cut around the edges. The beauty of using liquid fabric starch, is that it can be pealed off at any time without any difficulty and you just wash off any starch residue. It's not like gluing paper or adding wallpaper. But, the liquid starch does provide a nice feel to the fabric and it will hold up well over time too!
I have some toys that I've collected on the shelves. And, I picked up the woven rope baskets at the Target Dollar Spot! They fit the shelves perfectly and can hold small rattles, etc. The small stuffed dog is a recent thrift store find! It's an antique and I love it!
I'll link the other toys below in case there are any other moms or grands looking for some sweet, organic baby toys (the tea set and blocks are Hearth and Hand from Target, but no longer available)! I just have one more space to finish in this little room and then it's complete! This is becoming such a fun spot to spend time with our granddaughter! And, you can see the other projects from this nursery/play room below! Thanks so much for stopping by today!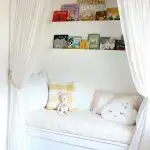 Vintage Style Nursery and Playroom
Toys seen in the Doll House