Hi, Friends! Can you believe next Wednesday is July 4th! Summer seems to be flying by! Today I wanted to share two Fourth of July printables that are faith based. I don't know about you, but I feel like I'm being baraged by so much negativity on TV lately about our country. And, it seems to me that our nation being divided – and I don't like it one bit!
Faith Based Fourth of July Printables
Now, I know that we are all different, but our country was founded by great men from diverse backgrounds and beliefs. They came together, talked, listened to one another, and made laws. I don't think either side is doing much of that these days. We need to be able to hear one another, really listen, and find some common ground. And, we need to pray for our nation, our leaders, and President (even if you don't like him). There is so much hate, but our God says we are to love one another.

And, two printables above are formatted as 8.5″ x 11″, so you can print them from your home printer. This third printable of The Pledge of Allegiance is formatted as a 3″ x 5″ card or it can also be printed as an 11″ x 17″ (ledger size) at any print shop for about $1.

These Fourth of July printables were made because this is what has been on my heart lately. I hope you can use them in your home as a subtle reminder to pray for this great nation that we are so blessed to live in. As always, these printables are available in my FREE Printables Library.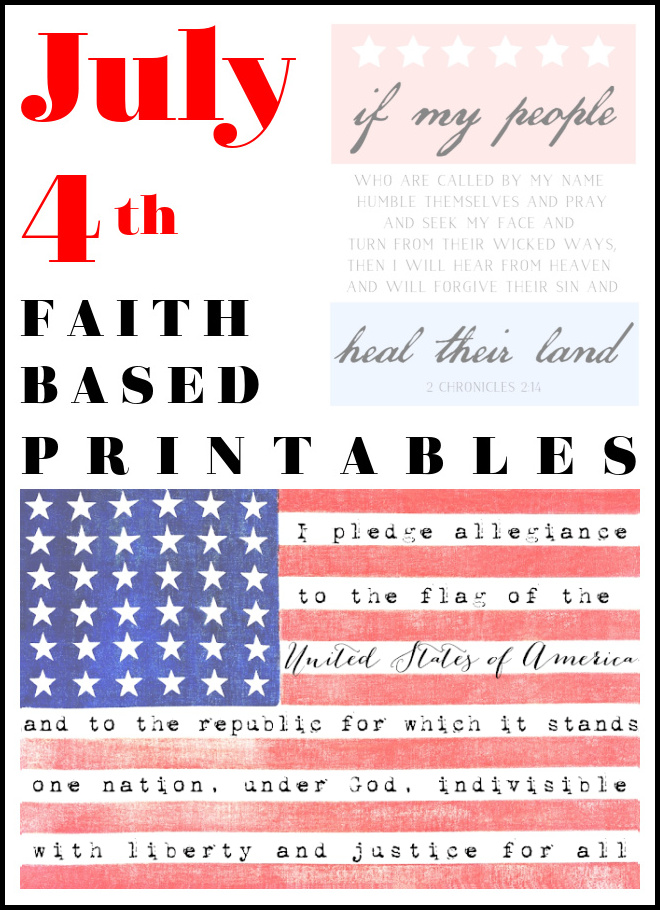 Thank you for listening to me up on my soapbox today! I'm climbing down now and will get back up on the ladder on my porch! I am hoping to share my summer screen porch design with you later this week – fingers crossed!!!
You might also like these posts:
Pennsylvania Dutch Macaroni Salad