Have you tried the latest hot beverage trend? It's the Hot Chocolate Bomb! If not, I'm sure you're wondering "what is a hot chocolate bomb?" A hot chocolate bomb is a hollow chocolate ball filled with hot chocolate ingredients. You put the "bomb" in a mug and pour hot milk over it and the "bomb" explodes with the hot cocoa and melts the chocolate shell! Stir it up and it's amazing! These sweet treats are selling out everywhere, but no worries. They are surprisingly easy to make! And, today, I'm going to show you how I made white chocolate hot chocolate bombs for Valentine's Day. And, I'll show you how to package them to use as little gifts with printable tags that I created.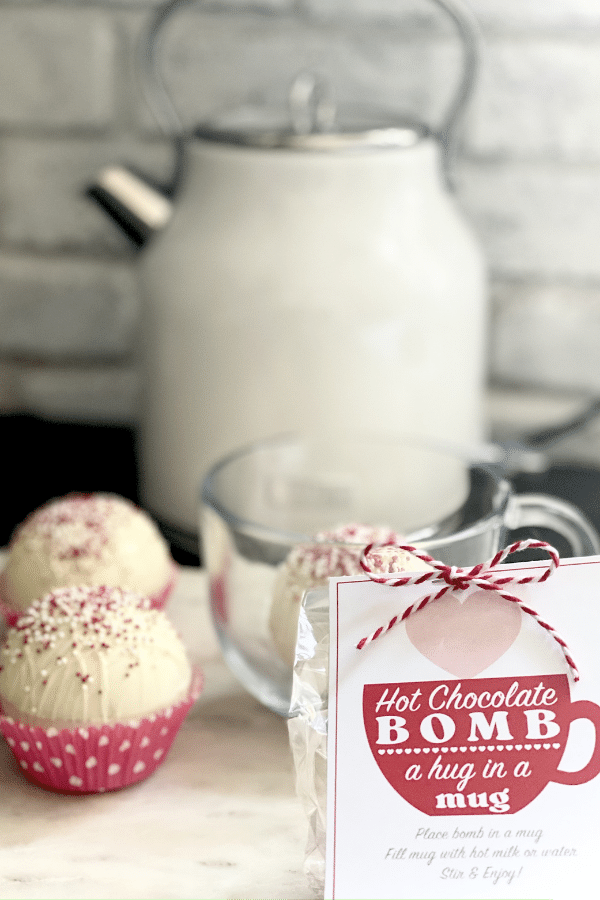 I'm sharing these hot chocolate bombs as part of the February Cozy Living Series hosted by my friend Jennifer at Town and Country Living. At the end of my post, you'll find more cozy living inspiration from my blogging friends! I hope you'll take some time this weekend to visit each one!
Supplies
Sprinkles or other topping
Hot Cocoa Mix Recipe (Click to get my recipe)
Mini marshmallows
Cupcake Liners
Printable Tags – Available in my Free Printable Library
And, here are a few helpful tips: One bag of Ghirardelli Chocolate Melting Wafers will make six hot chocolate bombs. My recipe for the hot chocolate dry mix is linked above. For packaging, I placed each hot chocolate bomb on a paper cupcake liner and then placed that inside a cellophane treat bag. I folded the treat bag opening down and stapled one of my tags to the folded edge. Then I made a small bow and attached it with a drop of glue to cover the staple. Since there is powdered milk in my hot chocolate dry mix, you can use hot water instead of hot milk when serving up your hot chocolate bomb. But, the hot milk does make a creamier cup of hot chocolate!
1
Melt chocolate in the microwave at 15 sec intervals. Stir until smooth.
2
Add a tablespoon melted chocolate to each mold. Use the bottom of the spoon to cover mold. Freeze for 10 min.
3
Turn mold upside down and remove molded chocolate.
4
Add cocoa mix 2/3 full.
6
Heat a pan and melt edges of empty half sphere. Then press onto the cocoa filled half sphere to seal.
7
Drizzle with melted chocolate and top with sprinkles. I used a zip lock bag and cut a tiny slit in one corner.
8
Put each bomb on a cupcake liner and place in a clear cellophane bag. Attach printable tag and bow.
To serve: Place a hot chocolate bomb in your favorite mug. Fill the mug with hot milk or water. Stir until completely combined! Enjoy!!!
February Cozy Living Posts
Finding Silver Pennies / Creative Cain Cabin / Duke Manor Farm / Town and Country Living

Making It in the Mountains / Hymns and Verses / Vinyet Etc. / A Stroll Thru Life