A few years ago I purchased a weeping cherry tree – as a remembrance of my Mom.
It has grown quite a bit over the years, and I wish I had taken a picture of it then; but it looked like those pictured below. My weeping cherry is a Snow Fountain variety. It has white flowers with pink centers each spring.
It is not a dwarf tree, but will grow between 6 – 15 feet. But, no one told me how to prune this pretty tree to keep it's natural weeping shape
I love to see a large weeping cherry with its long fringes of flowers blowing in the spring breeze.
HOW "NOT TO" PRUNE A WEEPING CHERRY TREE
But, there are a lot of weeping cherry trees out there with what I call a bad haircut! I've seen dwarf and larger one's alike that have been pruned like this. It kind of looks like a mushroom!

I drove around last week and snapped a few shots of weeping cherry trees with bad haircuts.

I think some like this "more formal" appearance, but for the health of the tree; it's not optimal. The sun has a hard time penetrating the dense branches and the tree just isn't meant to look sculpted and all formal.

I'm not an expert, but I have learned a lot since I've had my weeping cherry. So here are a few tips for how to prune a weeping cherry tree that I wish I had known when I first purchased mine!

First, all weeping cherry trees have been grafted into a wild cherry tree. The photo above shows the grafted area of my weeping cherry tree. It looks like a knot. The growth areas you see there are called "suckers" and they need to be cut off and kept in check. These growth areas are from the wild cherry part of the tree.
HERE'S HOW TO PROPERLY PRUNE A WEEPING CHERRY TREE

To encourage your branches to arch up and then fall, prune areas that drop down and leave branches that arch out like an umbrella.

The photo above shows where I pruned the branch falling down and left the part of the branch that is arching out.
Most important, you should prune your weeping cherry tree right after it flowers and before the leaves grow in. This is the optimal time to prune because it is easier to see where you need to make a cut without the leaves. The picture below is after pruning. I like to keep some of the outer branches about a foot off the ground – but it's really personal preference.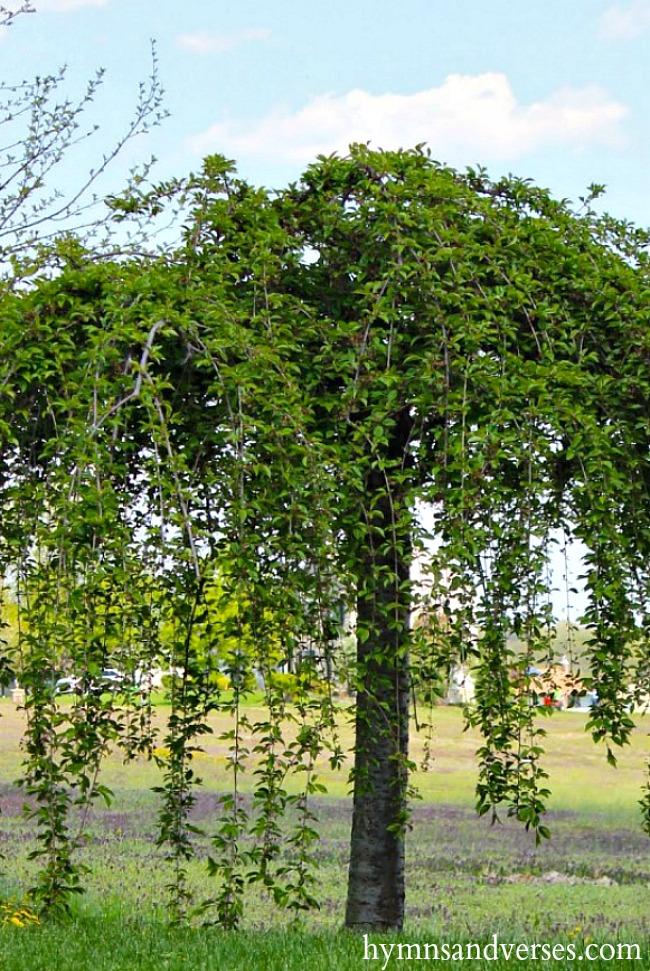 I will need to prune one more time in June or July (before the buds set for next spring's bloom). By then, the branches will have grown down to the ground again and it's hard to cut the grass near a tree with branches down to the ground!

I hope you've found this tutorial to prune a weeping cherry tree helpful! Don't forget to share it with your friends on Pinterest! If you like this post, you might also like: