Have I ever told you what a fabulous cook my mom was? She cooked the old fashioned way with fresh vegetables picked from the garden and meat and dairy from our farm. I miss her cooking – especially around the holidays. She always way overdid it and made sure there was enough leftovers to send home with us to enjoy for the next few days. My. mom wasn't a fancy cook and didn't have a gorgeous tablescape, but the food was prepared with love and you could taste it in every bite! She shared many of her classic Pennsylvania Dutch recipes with me in her own handwriting, and I love bringing them out to make for my family. One of the staples at Easter in our home was pickled eggs.
Pennsylvania Dutch Pickled Eggs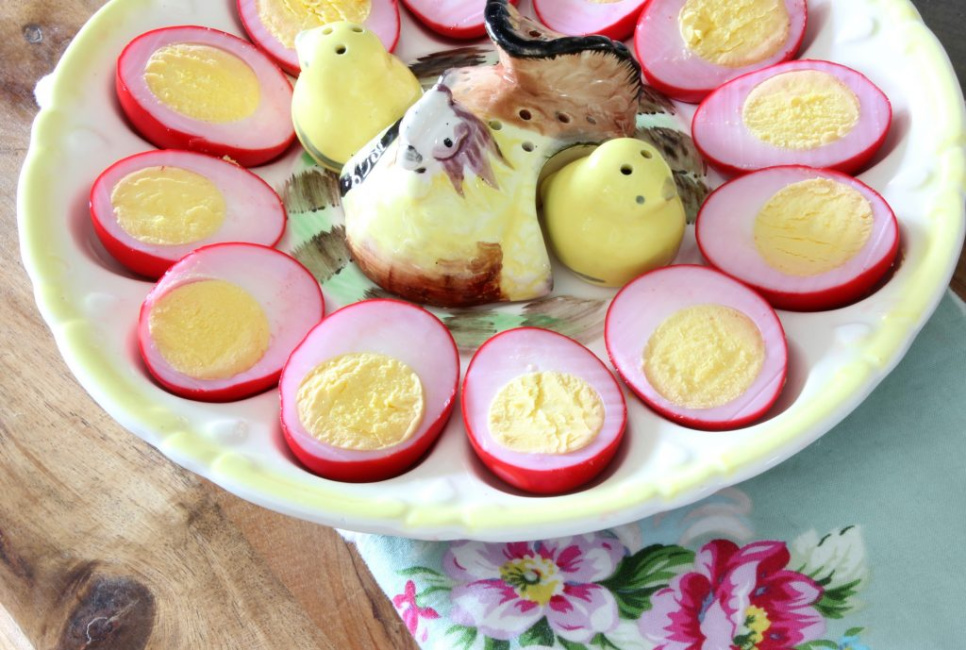 These pretty purply pink eggs are sometimes called 'red beet' eggs and it's the red beets that give these eggs that pretty color. They are so delicious with their sweet and tangy taste! These special eggs are so easy to make and you can have them ready in time for your Easter meal this weekend! Put them out on the table for your guests as you finish your meal prep and encourage the kids to have one instead of that chocolate bunny or sugary marshmallow peep! I serve these eggs on this vintage hen and chicks egg plate that was passed down in my family. Aren't those little salt and pepper chicks adorable!
Pickled eggs will last in your fridge for approximately two weeks – but they never last that long in my house. I love to have one at lunchtime with a turkey sandwich or as a afternoon snack. They are also great on a salad. If you've never had pickled eggs, I'd love for you to give this Pennsylvania Dutch classic a try!
Pennsylvania Dutch Pickled Eggs
Yield: 12 eggs
Pennsylvania Dutch Pickled Eggs

A traditional Pennsylvania dutch recipe for sweet and tangy pickled eggs. Perfect for Easter and Picnics!
Total Time
3 days
30 minutes
Ingredients
2 15 oz. cans red beets
1 cup beet juice
12 hard cooked eggs, pealed
1 cup sugar
One cup water
1 cup cider or white vinegar
Instructions
Drain the beets and reserve 1 cup beet juice.
Place beets and eggs in a glass jar.
In a small sauce pan, bring the sugar, water, vinegar, and beet juice to a boil. Pour over the eggs and let cool
Cover and refrigerate at least 24 hours before serving.
Notes
The pickled eggs are best after 3 - 4 days of pickling in the refrigerator. They last for up to two weeks in the refrigerator, but they won't last that long because they are so delicious!
Recommended Products
As an Amazon Associate and member of other affiliate programs, I earn from qualifying purchases.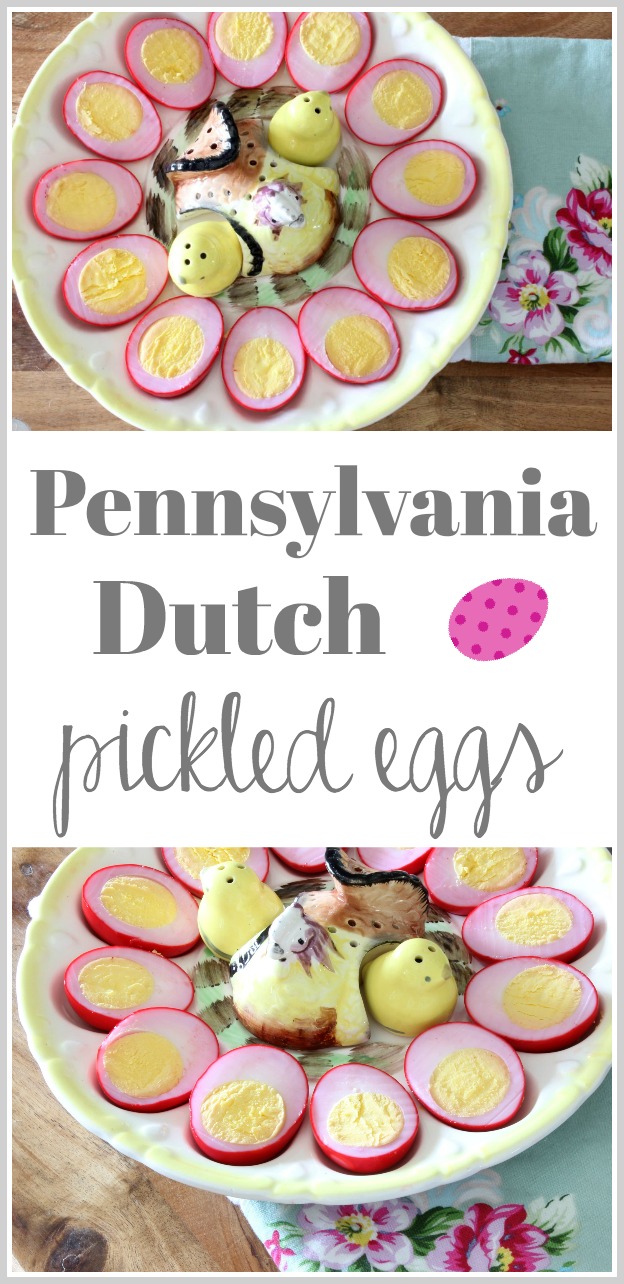 Here are few more posts you might like:
Pennsylvania Dutch Macaroni Salad