Brighten up the table when you bring out these Pennsylvania Dutch Red Beet Eggs. With a wonderful sweet yet tangy taste, these super easy eggs are the perfect thing to make for your upcoming Easter feast and spring gatherings.
These pinkish purple Pennsylvania Dutch Pickled Eggs are similar in appearance to a deviled egg or some hard-boiled eggs except the coloring of the egg white is different. They're extremely popular in Amish country and for good measure, they're delicious and beautiful!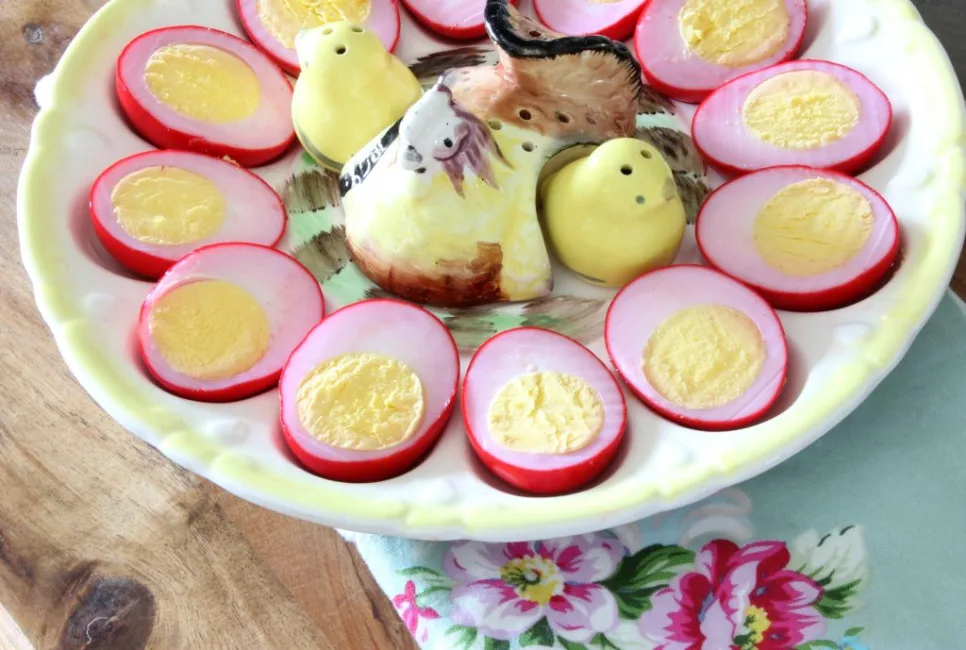 What are reed beet eggs?
Red Beet Eggs are a delicious traditional Easter treat made from eggs that have been boiled and then soaked in a brine solution with red beets. The result is a marbled effect of vibrant pink and whites throughout the egg's interior.
This Easter delicacy takes some time to make, but it is well worth it – Red Beet Eggs are rich in flavor and have a soft, creamy texture. Whether served as a snack or part of an entrée, these eggs always add a pop of color and flavor to any spread!
Why You'll Love This Recipe
They're fun, festive, and unique looking with a truly incredible color
Great for holidays, parties, gatherings, and simple enough for everyday snacks
While they require a few days to really develop the flavor from pickeling, they're worth the wait!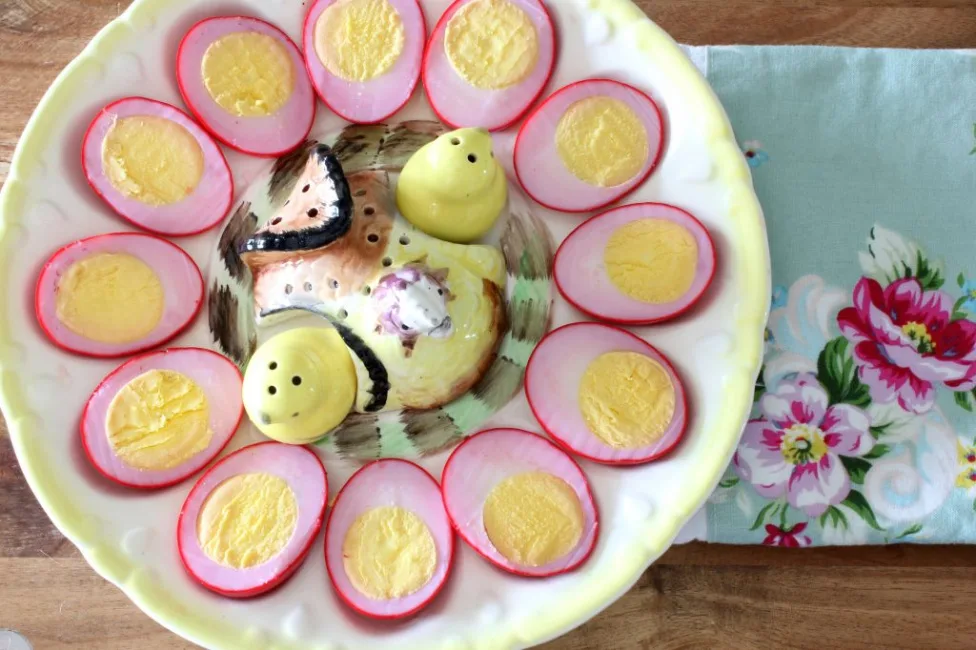 Ingredients Needed
Get more info on these ingredients in the recipe card at the bottom of the post.
canned red beets
beet juice
hard cooked eggs
white sugar
water
cider or white vinegar
How to Make Pennsylvania Dutch Red Beet Eggs
Drain the beets and reserve 1 cup beet juice.
Place beets and eggs in a large glass jar or large container.
In a small saucepan, bring the sugar, water, vinegar, and beet juice to a boil. Pour over the eggs and let cool
Cover and refrigerate the jar of red beet eggs at least 24 hours before serving.
Storage
Pickled eggs will last in your fridge for approximately two weeks – but they never last that long in my house, everyone always gobbles them up. We us them for everything— on salads, as a side dish, as a great snack, whatever reason we can find to snag one.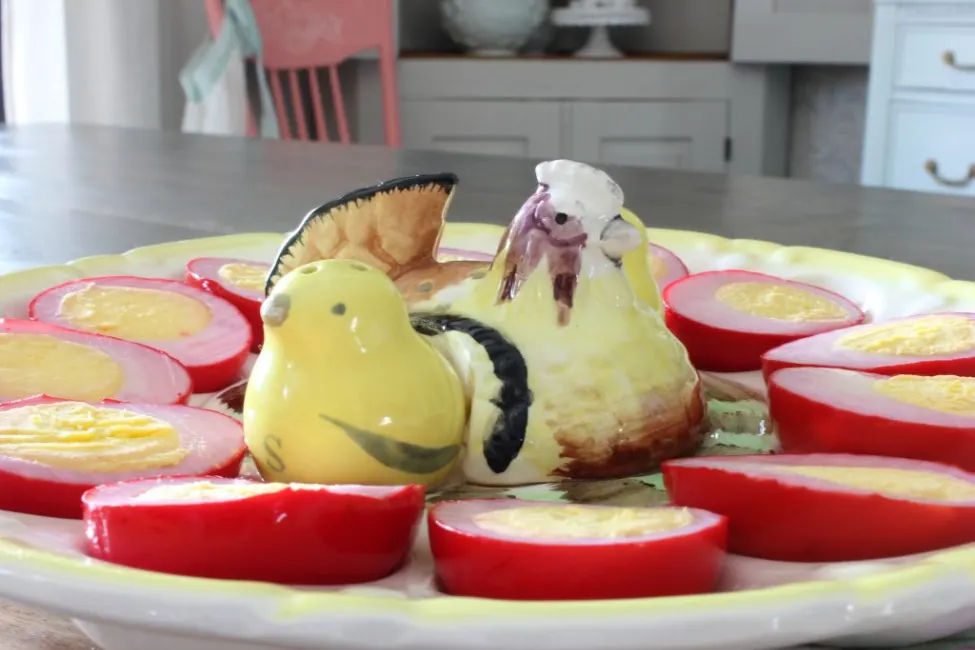 Tips and Variations
I like to use apple cider vinegar, but you can use any cider or some white vinegar for my pickling liquid.
Want to sweeten it up more? Increase the granulated sugar or try adding some honey.
Although, I will say that if it's your first time making this delicious snack, I suggest sticking to this original recipe and see what you think of this sweet tangy flavor of this great recipe before you go changing things up with any of these other variations.
If you're all about the flavor of these things, don't hesitate to add just a little salt to your own egg slice.
What other additions can I add to the pickled red beet egg jar?
Try adding a cinnamon stick, whole cloves, whole allspice, bay leaves, some other fresh herbs, or some of your favorite pickling spice mix to your container.
Can I make these with fresh beets?
Sure, you can make these fresh Red Beet Pickled Eggs with fresh beets instead of canned beets, but they may turn out a little different, although they should still be incredible. You may need a little extra red beet juice if deciding to make it this way.
How do you serve pickled eggs?
I suggest serving pickled eggs at room temperature or slightly chilled. When you aren't serving them, your homemade pickled eggs should be stored in the fridge. So, naturally, it's normal for them to be chilled when you serve this easy recipe.
What are some tips on peeling eggs?
Peeling boiled eggs can be a tricky task, but it doesn't have to be. Here are some tips for peeling eggs quickly and easily:
Make sure the eggs are freshly-cooked – using fresh eggs will make them easier to peel. Older eggs don't peel as easily as fresh eggs will.
Start at the pointed end of the egg and roll it against a hard surface – this can help break up the shell so it's easier to remove in sections.
Gently tap the egg all over before peeling – this loosens the membrane that binds the shell to the egg white and makes things much simpler.
Finally, run cold water over the peeled egg – this helps to remove any remaining pieces of shell clinging onto the egg white!
These simple tips should help you peel your eggs the quick way. Super simple, no crazy kitchen gadgets or kitchen equipment needed.
Pennsylvania Dutch Cooking is flavorful and so delicious, these Pennsylvania Dutch Beet Egggs are sure to live up to those standards as well. I love to have one at lunchtime with a turkey sandwich or as a afternoon snack. They are also great on a salad. If you've never had pickled eggs, I'd love for you to give this Pennsylvania Dutch classic a try!
Yield: 12 eggs
Pennsylvania Dutch Pickled Eggs
A traditional Pennsylvania dutch recipe for sweet and tangy pickled eggs. Perfect for Easter and Picnics!
Total Time
3 days
30 minutes
Ingredients
2 15 oz. cans red beets
1 cup beet juice
12 hard cooked eggs, pealed
1 cup sugar
One cup water
1 cup cider or white vinegar
Instructions
Drain the beets and reserve 1 cup beet juice.
Place beets and eggs in a glass jar.
In a small sauce pan, bring the sugar, water, vinegar, and beet juice to a boil. Pour over the eggs and let cool
Cover and refrigerate at least 24 hours before serving.
Notes
The pickled eggs are best after 3 - 4 days of pickling in the refrigerator. They last for up to two weeks in the refrigerator, but they won't last that long because they are so delicious!
Recommended Products
As an Amazon Associate and member of other affiliate programs, I earn from qualifying purchases.
Here are few more posts you might like:
Pennsylvania Dutch Macaroni Salad