It's such a busy time of year, but full of such wonderful things! Today, I want to share a peak into my office at Christmas and at the end of the post I have some printable Christmas gift tags for you!
Can you believe that we have just one week until Christmas? It sneaks up so quickly doesn't it! So, I thought that I had better share a look at my office decorated for Christmas before Christmas is over – ha, ha!!! First, my office is so hard to photograph! There is just one window and it faces west. And, the fact that it seems like it's been dark and dreary here for over a week, lends to not-so-great photos! If you look closely, you will spy the printable Christmas gift tags in some of the photos!
*This post contains some affiliate links. Please see my full disclosure statement HERE.
Christmas Home Office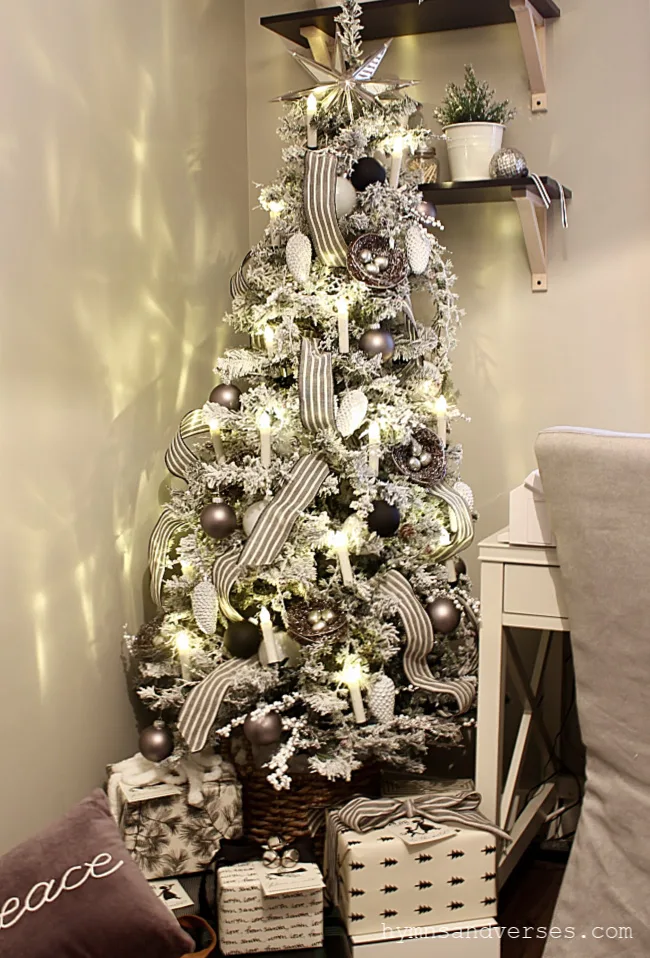 This is the 6.5 foot flocked tree that I had in my dining room last year. It's slim and not too big to tuck into small corners, which is perfect for my little house! It doesn't come with lights, so to keep it simple, I just used the clip on candle lights. They are battery operated and come with a remote control, which makes it perfect for my office to turn then on and off when I'm not in there. I love working in here at night with the twinkling of the candle lights!
I decorated the tree with black and white, since that's the overall theme in my office. Black and white striped ribbon, white and silver pinecones, silver glittered bird nests, and some black, white, and silver ornaments. The tree is topped with a mercury glass star that I've had for quite a few years. I think I got it at Marshall's or TJ Maxx.
I've used this downloadable Reindeer art from Etsy for several years. Downloadable art is such a great way to add special holiday touches to your home without spending a lot of money! You can have these prints enlarged and printed very inexpensively at your local copy center or office supply store. To make it more festive, I draped the pom-pom garland that I made a few years ago across the top!
The Swiss cross print is another download from several years ago. And, here are a few other Christmas accents that I added to the shelves on the other side of my desk.
The quote from White Christmas is a print I purchased from Lindsay Letters. White Christmas is probably my all time favorite Christmas movie, so this was a no brainer purchase for me!
And, if you missed seeing the Names of Jesus Printable Stars that I hung from a pine branch over the mirror in my office, here it is,
Free Printable Christmas Gift Tags
And, now here's a look at the Printable Christmas Gift Tags that I created. First, are the Joy to the World tags. I still love this vintage graphic that I've used in other ways over the years and it pairs perfectly with Joy to the World!
And, the other tag is Peace on Earth. I used this pretty dove image for this one.
I made these tags in three colorways – black on a white background, white on a black background, and white on a red background. So, you can print each tag in three different ways. And, there's a place to punch a hole for hanging.
You can get these tags in my FREE Printable Library. Thanks for taking the time to visit on these busy days!