It's Friday and feeling like summer here in Lancaster County! It just makes me want to belt out this song by Ella Fitzgerald "Summertime . . . and the living is easy". If you don't know it, you can click on the link to see this classic from 1968! Or, you can listen to a more modern version by Norah Jones here. And, in 2017, I made a sign for my screened porch based on these lyrics!
My screened porch that year had a lot of galvanised accessories and mostly red and white textiles! I do love red and white in the summertime! Then, add in some blue for the summer holidays and you're set! This year's summer porch style isn't red and white, but something totally different and I can't wait to show you soon! I've been busy making lots of changes out there!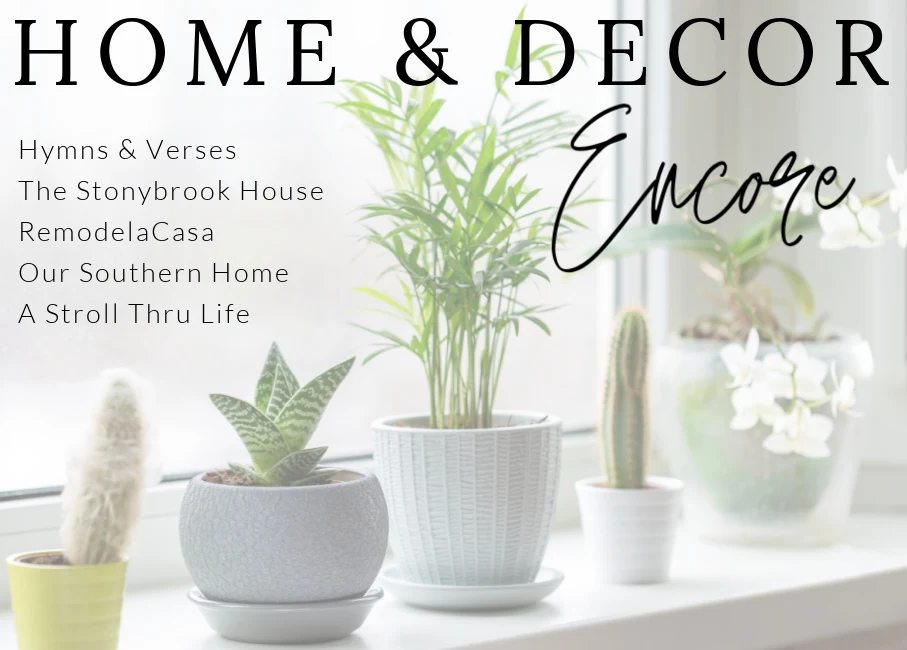 This week's Home and Decor Encore has a lot of great ideas for your home! There's a summer bedroom styled by Christy of Our Southern Home. Lori from The Stonybrook House has a money saving DIY bed frame. And, there are two furniture makeovers this week! Cristina from RemodelaCasa has a fun paint makeover. And, Marty from A Stroll Thru Life is sharing how to change out rush seats on a chair.
HYMNS & VERSES | SUMMERTIME AND THE LIVING IS EASY SCREEN PORCH
THE STONYBROOK HOUSE | BED FRAME FOR UNDER $40
REMODELACASA | DEMILUNE TRANSFORMATION
OUR SOUTHERN HOME | SUMMER MASTER BEDROOM
A STROLL THRU LIFE | HOW TO REPLACE RUSH SEATS