Are you getting ready to decorate for Christmas? I'm finishing up a few projects this week, and I'm hoping to begin decorating over the weekend! The foundation of Christmas decor is the tree! When my boys were young, we always went to the tree farm to cut down a real tree. It was a fun, family event and we have so many happy memories! But, since I've had the blog, I've found it almost necessary to have an artificial tree. Home decor bloggers do what we do to inspire others, so it makes sense that we are decorating so much earlier than what most people would do. So, today I thought I'd share some of the best artificial Christmas trees that I've owned over the years!
*This post contains some affiliate links for your convenience. Please see my full disclosure HERE.
I'll start with this flocked Christmas tree from Walmart! It's the first artificial tree I purchased and Walmart still sells this beauty! Flocked Christmas trees can be quite expensive and the fact that this one is so affordable and looks so good is why I think it's one of the best artificial Christmas trees!
It's really a gorgeous tree! There are even pinecones wired into this pretty flocked Christmas tree! If you are looking for a smaller flocked Christmas tree, this 6 ft. unlit flocked tree is so inexpensive at just $35. It says that it is sold out online, but check your store.
This one looks similar. It is slightly larger at 6.5 ft. and has white lights already on the tree. I love this size tree for a smaller space. Even though my dining room is small, this tree worked in the space! This year you'll be seeing it in my bedroom! And, here's an all white tree that I've used in my bedroom in the past.
This basic, white 6.5 ft. Christmas tree is another one that smaller in size and works great in a bedroom. It is pre-lit and is only $39! It would also be a great option for a nursery! I'll be using this one in my office this year! These first three trees from Walmart are all great values!
My Favorite Artificial Christmas Tree
Now, for my absolute favorite and what I think is the best of the best artificial Christmas trees.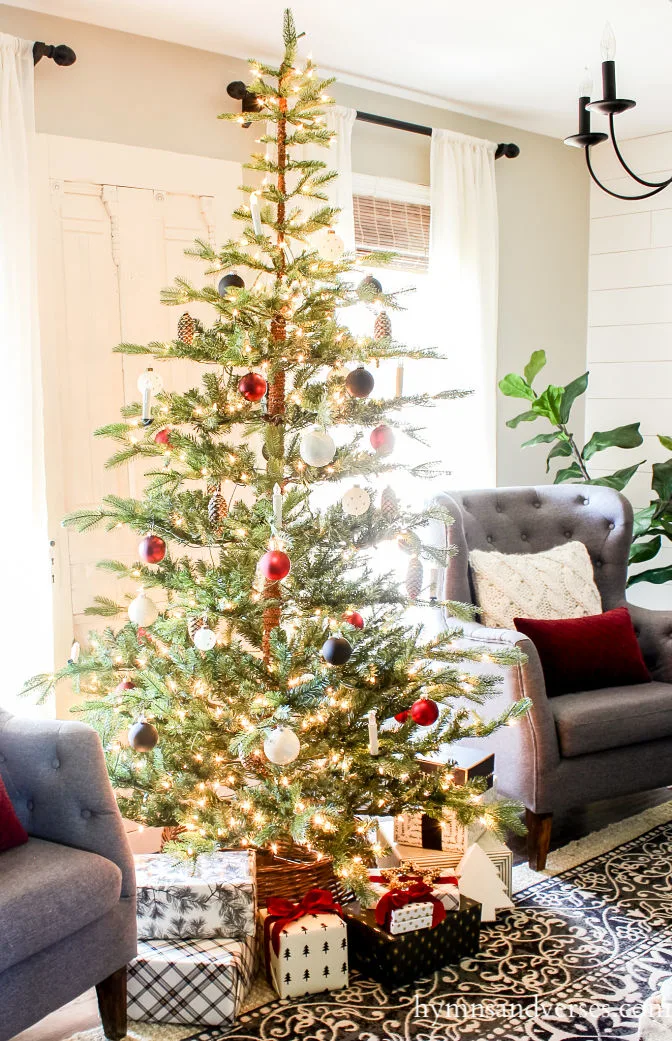 I absolutely love THIS Christmas Tree!!! It's a 7.5ft. Norwegian Spruce. If you love the sparse tree look, this tree is for you! It's not a tree to fill with ribbons and giant orbs, because the tree itself is the star of the show! It looks very real with it's bark like trunk! Yes, I'm gushing over this Christmas tree!!!
Finally, if you want a small accent tree, I've got you covered!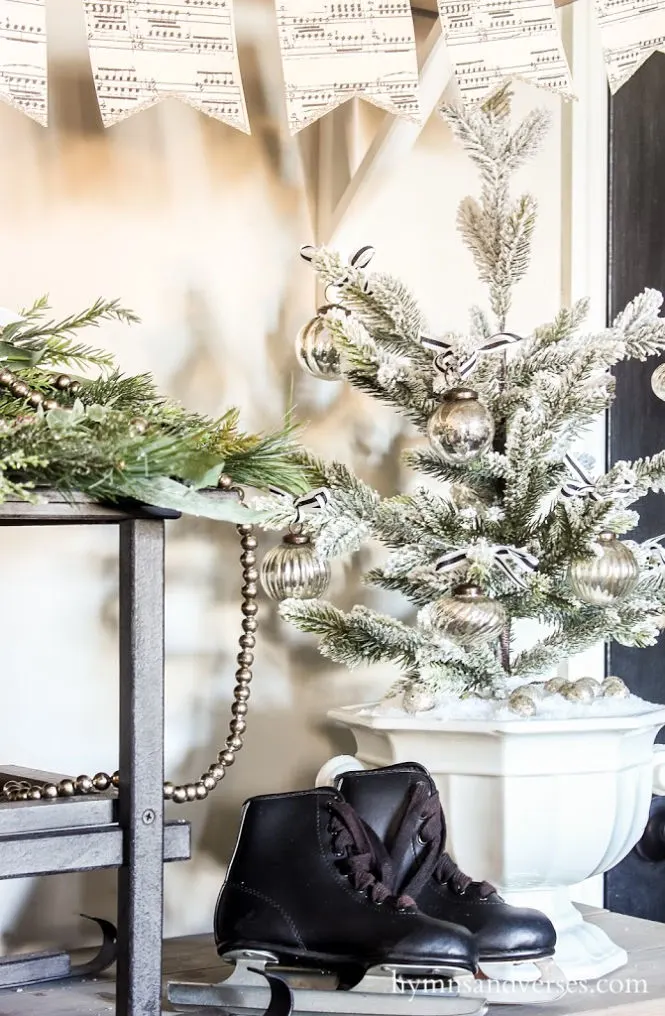 This small flocked tree is the perfect little tree! This is the flocked version, which sadly Target doesn't seem to be carrying (at least online) this year. But, you can get this very realistic, 14″ x 24″ artificial Christmas tree in rattan basket HERE. It's the same tree as shown here except it's not flocked. These trees come in a slightly taller version too. Here's mine from our bedroom last Christmas, again this is the flocked version.
HERE is this same tree, except it isn't flocked. This one is 3 ft. tall. The one that I linked says "glitter". I haven't seen these in person, but I'm thinking the glitter must be subtle since I can't really see it in the photo, even when I zoom in.
So, these are my picks for the Best Artificial Christmas Trees! I'd buy them all again too! And, I just may go and get the unflocked versions of the Target basket trees, because they are so good! Why not have flocked and unflocked! I like to have a variety since I do a lot of decorating and these little trees could carry over into winter decor!
Here are a few more Christmas decorating posts:
How to Force Paperwhite Bulbs for Christmas
Sheet Music Poinsettia Flowers