Sometimes a holiday just sneaks up on us! That's how I feel this year about Valentine's Day! I've been so busy with other projects that I've neglected doing anything for Valentine's Day!!! So, today I rounded up a collection of last minute Valentine's Day ideas that you can whip up in a few hours and have them ready to gift or use yourself!
Last Minute Valentine's Day Ideas
heart shaped pom pom wreath
This heart shaped pom pom wreath is so easy and doesn't take much time to pull together! I like to make the pom poms when I watch TV. You can make this wreath to gift or use for decor in your own home this weekend!
vintage-inspired Valentines
Do you need a few Valentine's Day cards to give to friends, neighbors, or family members? You don't need to worry about heading out to the card shop and you definitely don't need to spend $5 for a card! These sweet, vintage-inspired Valentines can be downloaded to your computer or phone and printed on your home printer! So easy!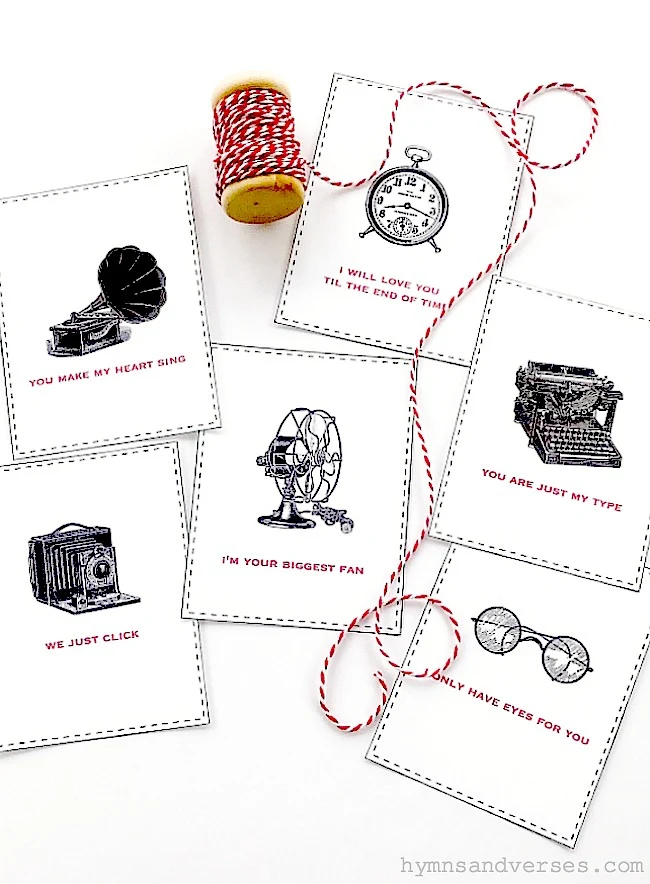 chocolate sugar scrub with printable labels
This next one was inspired by a local Pennsylvania favorite – Hershey's chocolate! And, it's a great little gift for your girlfriend, sister, daughter, granddaughter, niece . . . Who doesn't want something that smells yummy and makes your skin soft and smooth in the middle of winter? This homemade chocolate sugar scrub is amazing, easy to make, and inexpensive! Pick out some fun jars and use the free printable labels to make a pretty presentation!
marshmallow world in the winter printable & hot cocoa bar
Last year I created a sweet hot cocoa bar for Valentine's Day! I like to use my own hot cocoa recipe with chocolate dipped candy cane spoons when I put together any hot cocoa bar. What makes this hot cocoa bar special is the large chalkboard printable sign – "It's a Marshmallow World in the Winter"! This is another free printable design that can be printed as a 24″ x 36″ engineering print at Staples or Office Max for about $5! I glued real mini marshmallows to the snowflake spots to make it extra sweet! And, then I had some more fun stringing heart-shaped pink marshmallows to drape across the top of the printable sign! You can totally create this in time for Valentine's Day!
diy framed button heart
Here's another fun little DIY that is quick to make! I think this would be a great Valentine's Day gift for a special Mom, Aunt, Grandmother, or anyone who likes to sew! I used buttons from a collection of buttons from my mother and grandmother to make this pretty framed button heart! You could even ask for some old buttons from the recipient to make it even more special!
chocolate chip muffins
And, don't forget about something sweet for your sweetheart for Valentine's Day! I recently shared this recipe for chocolate chip muffins! They are easy to whip up the morning of or night before Valentine's Day! They are moist and oh, so good!
I hope you enjoyed this little round up of last minute Valentine's Day gift ideas! If you are looking for more Valentine's Day ideas? Just use the search bar at the top right hand corner of this page and type in "valentine". I have a lot of posts with easy Valentine's Day crafts and decor!
The printables I shared above are all free and available in my FREE Printables Library for email subscribers only! Just click the box below to sign up! Once you confirm your email address, you will get a second email from me with the password for the Printable Library. If you don't get the password email, please check your email spam folder or junk mail folder. It seems this email is going to spam for some reason! If it is in your spam folder, move it to your inbox so your email provider knows that you want to receive my emails! Because, you don't want to miss any of the future printables, home decor, and DIY projects that I share here at Hymns & Verses!