Happy Friday!  We made it to the end of the week!   Hopefully today is everyone's last day of work!  I decided to just share a fun post today recapping the Merry Mantels I've shared through the years here at Hymns and Verses!   If you've followed me since the beginning, you will remember them!  But, if you are a newer follower, you probably haven't seen some of these mantels from the earlier years.  Enjoy!
This is from 2013.  This is the mantel that got me featured in 2015's Country Sampler special Christmas edition.  It was my first feature in a national magazine and so exciting!
In 2014 I recreated the same silhouette nativity mantel, but used a mirror as the backdrop.  Looking back, I actually prefer the blackboard background.  It really highlights the figures more.   I recreated all entire Christmas decor this year for the magazine shoot.  They had seen my 2013 decor and wanted everything the same – so it was easy decorating for me in 2014!  And, oh my, is this photo ever blurry.  I can't believe I let this on my blog!!!  At least this shows me that my photography has improved over the years!!!
This mantel from 2015 is one of my favorites!  Really my entire Christmas decor this year is probably my favorite!  I made the wood "Go Tell it on the Mountain" sign and used large pinecones and fresh garland around the mantel.

My holiday home from 2015 was featured in Country Woman magazine.

Last Christmas, 2016, was my super simple Scandanavian style Christmas mantel.  It was the year we planked the wall behind the fireplace and I love the simple design.

And, finally, here is this year's mantel.  So different with the mantel painted black and the darker rug!

So, I hope you've enjoyed seeing all of the Merry Mantels I've shared through the years!  Wishing you many Merry moments this Christmas!  And, amid all the bright lights and pretty packages, let's remember the reason we celebrate!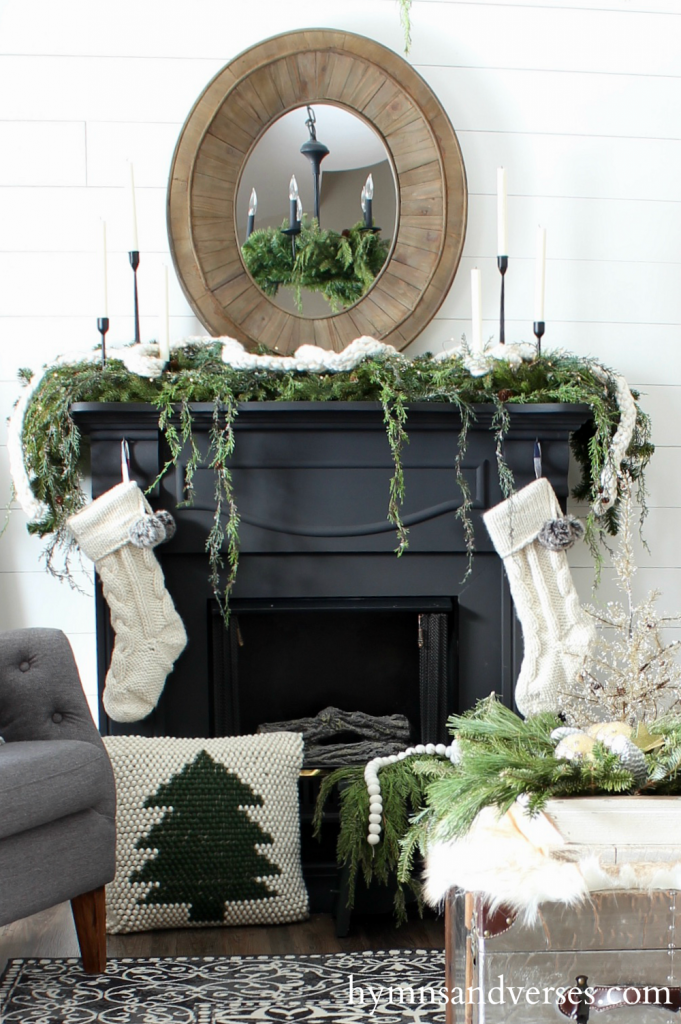 If you'd like to see more of my Christmas home through the years, just click HERE for my full Christmas home tours by date!