Today I have a fun post recapping the Merry Mantels that I've shared here at Hymns and Verses through the years! If you've followed me since the beginning, you may remember them! But, if you are a newer follower, you probably haven't seen some of these mantels from the earlier years. Enjoy!
hymns and Verses Merry Mantels
*This post contains affiliate links for your convenience. Please see my full disclosure statement.
2013 Mantel
Silhouette Nativity
This mantel from 2013 featured a DIY Silhouette Nativity that I made and you can make your own by following the instructions in my Silhouette Nativity E-book sold in my Etsy Shop. For 2014. I recreated this same mantel because I was asked to recreate my 2013 Christmas decor for a feature in Country Sampler Magazine's special Christmas Edition that came out in 2015! See more of my 2013/2014 Christmas Decor.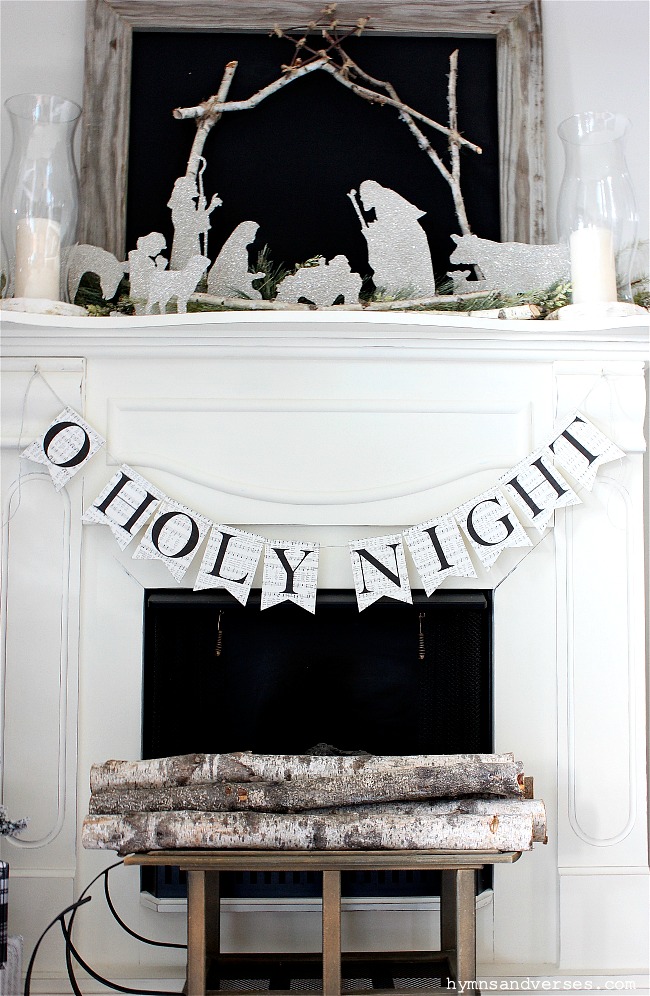 2015 Mantel
Go Tell it on the Mountain
The focus of this mantel has to be the wood sign that I made with the lyrics to "Go Tell it on the Mountain". I used a real pine and cedar garland that year and loved how it looked, but don't love how dry it gets over time. Now, you can buy such realistic pine garlands! I still like to add some real cedar into the faux to add texture and the scent of the season! The pom pom garland is one that I made and still have and use each year! You can see how to make your own pom pom garland in this post! See my entire 2015 Christmas Home.

2016 Mantel
Scandinavian Style

In 2016 my Christmas mantel went Scandanavian style. It was the year we planked the wall behind the fireplace. My decor that year was mainly red and white. And, it was much more simple to get that Scandinavian feel. See all of the Scandinavian style decor in my 2016 Christmas Home.

2017 Mantel
Modern Farmhouse
When I think about this mantel from 2017, I think "modern farmhouse". There's a rustic wood mirror, knit stockings, black candlesticks, and this was the first year that my mantel was painted black. My entire Christmas decor that year was black, white and dark green. See more of my 2017 Christmas Home.

2018 mantel
Black, White and Burgundy


In 2018, I brought in this gorgeous black and ivory rug (which is sadly no longer available). I wanted a color that would pop against all of the black, white and gray and that was burgundy! I still have those stockings and use them for the kiddos! The buffalo check ones are from the Hearth and Hand for Magnolia line at Target. They have similar ones this year ! See more of my black, white, and burgundy 2018 Christmas decor.
2019 mantel
Traditional with a Twist

I called this mantel traditional with a twist because if feature a traditional mirror with a more modern metal wreath hanging on top and a traditional garland that hangs asymmetrically to one side. But, my colors in 2019 were very traditional red, green and white. And, I placed photos of my loved ones, who are no longer with us, as a remembrance. See more of my 2019 Christmas Home.

I hope you enjoyed this look back at all of the "Merry Mantels" that I've shared here over the years! I'm currently working on this year's mantel design and can't wait to share it with you! My Christmas home tour isn't until the beginning of December, but this year I'm doing a lot of DIY projects in my decor that I'll be sharing the entire month of November leading up to my tour! So, stay tuned!