I can't believe today is the last day in April! So, I thought I'd share a post from a few years ago with a free printable for the month of May! You know that I love to use old music pages or sheet music in my home! I've used sheet music as placemats, cut pages to decoupage Easter eggs, made paper flowers with music pages, and here I just popped this "May Flowers" music sheet into a frame!
May Flowers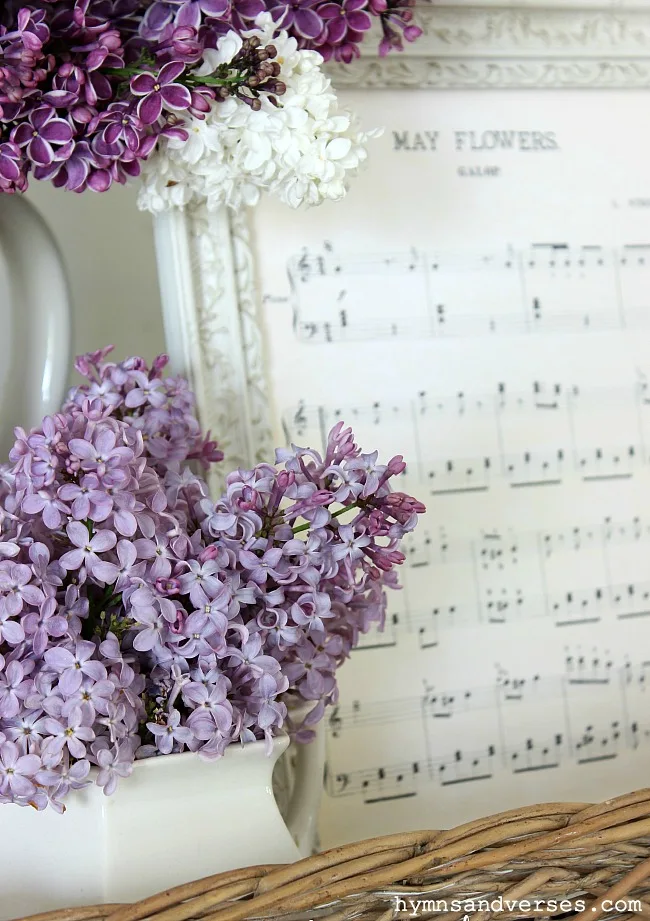 The framed "May Flowers" music looks so pretty with the lilacs that are in bloom here in Pennsylvania! Earlier this month I shared some of my favorite spring flowering shrubs. And, lilacs are on that list! A few years ago I had to dig up our lilac and move it. It just wasn't getting enough sun where it was in our yard. Lilacs need lots of sunshine! So, we pruned it way back and moved it to a new spot. In early spring I told Mark that I wanted to just dig it out since it had been two years and it still wasn't looking good. But, low and behold, it must have heard me! Because a few weeks later, I walked back and looked again and it was covered with purple buds!
I was so excited to have lilacs in my yard this year that I covered that bush up with a sheet on two nights were we had a late frost warning! And, today, the lilac is full of sweet smelling, purple blooms!
I hope you can use this printable sheet music for the month of May in your decor this spring and maybe even create a little vignette like I did using it! And, if you don't have lilacs, just got to the grocery store and pick up a bunch of pretty flowers! It will brighten your day!
I'm sharing this post from 2015 as part of this week's Home and Decor Encore series. Each Friday my blogging friends and I share some of our older content. We give these older posts an update and put them out into the world again for new readers to see! There's always a great variety too. This week there is a recipe, a DIY project for spring, and a great repurposing home decor idea! Just click on the BOLD titles above each one to visit the original posts!
welcome to home and decor encore
HYMNS & VERSES | MAY FLOWERS PRINTABLE AND LILACS IN BLOOM
THE STONYBROOK HOUSE | SPAGHETTI SQUASH CHICKEN BACON BROCCOLI CASSEROLE
REMODELACASA | BIRD HOUSES WITH OLD DRAWER PULLS
OUR SOUTHERN HOME | DECORATING WITH BOOKS