I was chatting with a friend on Tuesday and she remarked at how much my home decor and style has changed since I began my blog. And, she said that it would be a great idea to share my spring decor through the years in one post. So, that's what I'm doing today! If you're a newer subscriber, you probably haven't seen some of these spring tours. And, if you're a long time reader, it should be fun to see some of the changes I've made and maybe see a change in my style over time.
Spring Decor Through the Years

2016 Spring decor
We'll begin in 2016 because that was the first year I participated in a Spring Home Tour. It's obvious that I've always loved green as an accent color. I loved the combination of the green pillows with the gray floral lumbar pillows in the living room. My style was definitely more cottage/farmhouse here with the old windowpane with the wreath and buffalo check curtains.
And, here's the terrarium I made using a mini orchid. You can see how I made it in this post. I planted "baby tears" in a white ironstone teacup and placed it under a glass cloche.
In the photo above, you can see that this was when we first installed the shiplap behind the fireplace mantel. And, the mantel and wall were both white. I do still love the idea of the hyacinth topiaries that are on the mantel. And, still have the primitive bench that's in front of the mantel. I probably should sell it, but haven't been able to bring myself to do it!
Wow! There have been a lot of changes in this space over the years! First, the dining room table and chairs! The base of this table was purchased at a yard sale and then Mark built me a farmhouse tabletop that we attached to the white painted base. The chairs are Ikea Henriksdal chairs with gray checked slipcovers.
Again, lots of things seen here have changed over the years. The first thing I notice is the floor. We replaced this light laminate flooring about a month after this photo was taken. You can see all about the vinyl plank flooring that we now have in this post. And, can you believe this dresser! I really like it so much better painted black. Finally, here's the corner cabinet when it was lighter and brighter. I painted the inset panels a slightly darker shade and loved that contrast!
I still have this old high chair (also in my attic). You'll see it again painted another color in a future spring tour! As the oldest spring tour I'm sharing, this is the one with the most change! Now, let's move on to Spring 2017!
2017 Spring Decor
In the spring of 2016 I was still embracing a cottage style! I switched out the bold buffalo check curtains for lightweight white panels. I do love the soft and airy feel of this still! And, this is still Sadie's favorite spot to bird watch!
We added wheels to an old chicken crate to use as an end table! I still have this piece too and like to use it on my porch from time to time!
This is when we had the white slipcovered sofa in the living room. Mark made the mirror for me using wood siding from an old house in Lancaster County. And, the framed photos are all ones that I purchased online and had printed locally. And, it's hard to believe that the lamp in the corner is the same lamp that I currently have! It looks so different now!
Mark and I made the wood barn quilt over the mantel! I loved how it turned out, and I wish I could say I still have it! And, I regret never doing a tutorial for this piece. So, I may revisit that project with a twist!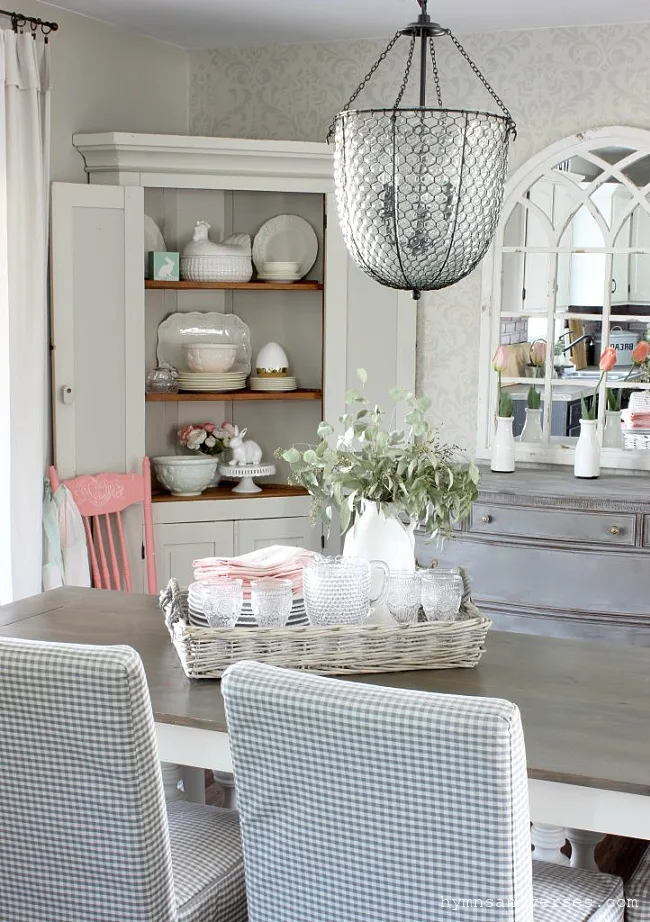 One thing I forgot to mention in the 2016 images was the feature wall in the dining room. It was a tone on tone damask that I painted using a stencil. I don't think this is a project that I will ever do again!!! I did love the look of it, but I'd much rather hang wallpaper than do a wall stencil again (ha, ha)! There are two things that changed in this space. The first is the arched mirror over the gray dresser. And, the highchair got repainted pink!
I didn't share much of my kitchen in those early years because I really didn't like it! But, here's a view of it that spring. The red brick was just white washed to tone down the red. The lower cabinets are still the same color. But, my upper cabinets are a brighter white now.
2018 spring Home
There were a lot of changes from spring 2017 to 2018! I began to add some darker shades to my decorating. Here in the living room, the mantel went from white to black. And, this black and white rug is still one of my faves! Also, the french mattress ottoman that we made is first seen in my spring decor this year! You can see how we made it in this post.
And, you can see that the white slipcovered sofa was replaced with the vintage French sofa that I reupholstered.
The living room curtains are slightly different with these gauzy, off-white panels that I made. Plus, we added bamboo shades to the living room windows. And, I found this old door in a local barn!!! We brought it home, gave it a good cleaning and I painted it to put behind the library table for some interest.
And, this is the first spring tour where I had the vintage player piano that I painted.
Here you can see the same dresser in the dining painted black! And, the round, gold framed mirror that I still have today!
It was this year that I definitely started to incorporate more brass tones into my decorating!
2019 Spring Decor
This year probably has the fewest changes. I must have had lots of other things happening that year?
The piece over the sofa is an old bed headboard that we made into a shelf. It's now in the nursery and we added pegs to it to hang things.
In the dining room, the stencilled wall got covered with this Magnolia Home wallpaper. And, a wall light got hung over the round mirror.
And, here's a look at the kitchen that year.
2020 Spring HOme
From 2019 to 2020 the main change in the living room is the green wall! I was trying out the darker, more moody look with just one wall painted in a darker shade, Magnolia Home Paint in the color "Luxe".
You can see my style also really made a transition here. I have always loved antiques and vintage style, but I began adding more vintage art as seen over the mantel. And, there are more brass accents including the new chandelier in the living room that replaced the black iron one.
The gauzy curtain panels were replaced with drapes that I made using a gorgeous gray and olive print from Ballard Designs. And, I found this beautiful vintage mirror on FB Marketplace for $15!
And, there were a lot of changes in the dining room too. My vintage corner cabinet got painted the same shade as the living room shiplap wall, Magnolia Home Paint in "Luxe". I found this gorgeous Pottery Barn table and black chairs for a bargain on FB Marketplace.
And, probably the biggest change of all, the kitchen remodel! Now, I love sharing my little kitchen!
I just added a few simple touches of spring!
I know this post is A LOT!!! But, I hope you enjoyed seeing the progression of my spring decor and style over the years! And, if you missed this year's 2021 home tour, you can see it in this post!