For the summer months, I like my home to have a more relaxed feel. And, this year I used a combination of special vintage pieces along with some new, more modern elements in my summer spaces. I'm loving this eclectic vintage modern look. It's a nice combination of old and new.
*This post contains some affiliate links. Please see my full disclosure statement.
WELCOME TO MY SUMMER HOME
Each season I join a group of 30 home decor bloggers for a week long home tour. I love to see how everyone is decorating their home for the current season! And, today is the first day of this year's Summer Home Tour hosted by Marty at A Stroll Thru Life. If you're here visiting from Stone Gable, welcome! I always love seeing Yvonne's beautiful home! And, her home is so welcoming! It's a true reflection of Yvonne's gift for hospitality. At the end of today's post, you'll find the entire week's schedule of homes with links to each one. Now, let's begin my tour in the living room.
LIVING ROOM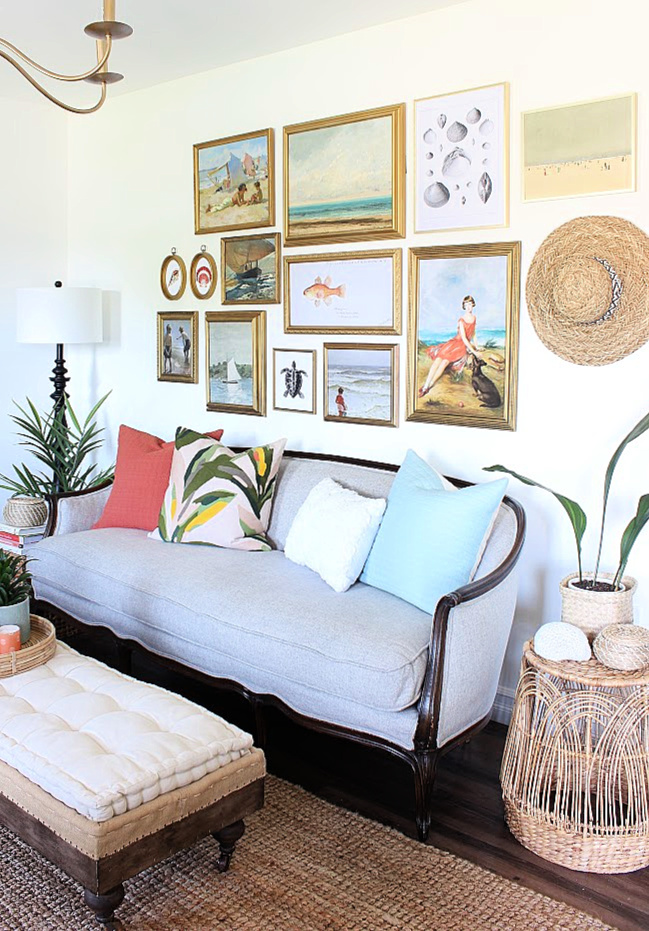 The first thing you will probably notice when you walk through my front door is the gallery wall of vintage beach prints over my sofa. It's an eclectic mix of vintage art, all with a summer, beach theme. I love all of the aqua blue and shades of coral. And those colors inspired the rest of my decor in this space. All of the art prints are from original works that are free to the public domain, meaning you can download and print them. I have a series of posts where I share my tips for finding free vintage art, sizing the art to fit any frame, and putting together a gallery wall.


Tomorrow I'll be sharing more about this gallery wall with links to download each print!

My youngest son, Seth, has become an avid film photographer. They say everything old is new again! In this age digital photography and instant gratification, who would think there would be an interest in film photography? For Mother's Day Seth gave me a canvas print of one of his photographs. Aren't the blues of the water amazing! Mark made me a simple floating frame for the canvas that is definitely a more modern look than the vintage frames of my gallery wall, but it works well with the canvas..

If you are a regular reader here, you know that my mantel has been painted black for a few.years, but the black mantel just wasn't working with this canvas art. So, I grabbed a can of Benjamin Moore Revere Pewter from the garage and gave my mantel a quick makeover! It was so sunny when I took my photos that it washed the color out, but it's a very subtle grey.



I love how live plants bring life to a space. I wanted to get a bird of paradise plant for my living room. But, did you know they are very poisonous to both people and animals. So, a real plant was out of the question at my house. But, I found this amazing faux Bird of Paradise at Target. It is so realistic and is worth every penny for the size and quality!

I swapped out my drapes for these gauzy, white curtains. And, the coral leaf print pillows were made using a table runner that I purchased at Crate and Barrel! I just loved the color and print and the runner was the perfect size to make two lumbar pillows.

This small palm is another faux. It's a nice size for a very reasonable price. I like to put my faux plants into a basket or other container to give them a more realistic look.

Two things that have remained a constant in my living room are these grey tufted chairs and my antique library table.

Our little entryway is so hard to photograph. I know it's a strange angle, but I wanted to show you the few changes I made here. I changed out the green lamp that was here for this more neutral lamp for the summer months. And the framed art is another photograph taken by my son, Seth. You can see more of his film photography on his website. And, here's one last look at the living room before we move into the dining room.

DINING ROOM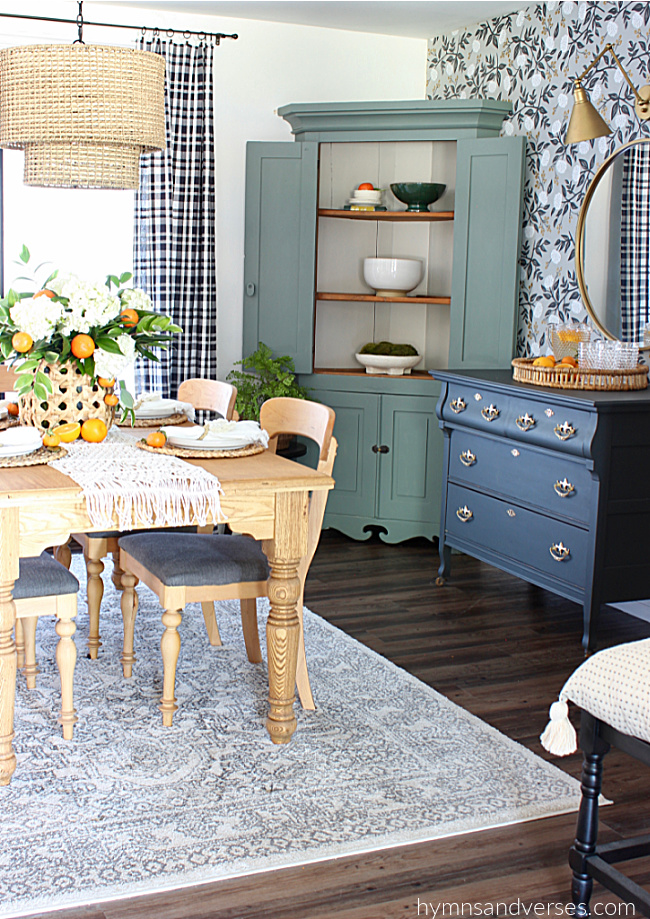 I've also made some changes in my dining room recently. First, I removed the white and black plaid wallpaper that was in this space and replaced it with this white peonies print wallpaper from Rifle Paper Company. The paper is gorgeous and was so easy to apply. And, I love the subtle gold, metallic berries. The vintage dresser is another recent project. It is a facebook marketplace find that I gave a facelift! I'll be sharing more about in soon.

This is a good example of vintage modern: the more modern gold mirror and wall sconce juxtaposed with the vintage dresser and corner cabinet. And, the corner cabinet is styled with more modern and minimal accessories. This antique glass hobnail pitcher was my mothers. And, I found these acrylic hobnail glasses at Big Lots of all places! When placed together, you would never know that the glasses are really acrylic!

Here is another look at the dining room wallpaper. I'd love to do more than just a feature wall, but the way my dining room and kitchen are combined, it would probably be too much of a good thing.

You've probably noticed that I used a lot of fresh oranges in my summer decor. I love the pop of color they provide to my mainly neutral furnishings.

Here I combined fresh mandarine oranges with white hydrangeas from the grocery store to make this arrangement for my dining room table. The basket is from Target and I simply used a clear glass vase inside it to hold the flowers.

For this simple tablescape, I used woven chargers, a macrame table runner, and macrame napkin rings along with more oranges. This would be a great table for a summer brunch!



kitchen
I kept things pretty simple in my kitchen area. I added just a few things to give it a summery look and tie it into my other spaces.

On my island, I brought in some wild Queen Anne's Lace and paired it with woodland ferns from my landscape. I love sitting here each morning for breakfast.

I'm still loving all of the changes we made to our kitchen two years ago! You can read about all the details of our kitchen update in this post. The vintage bird print is another public domain piece of art that I downloaded and printed for this space.



And, my favorite part of that makeover is still the farmhouse kitchen sink! You can read my review of our sink in this post.

I'll close out my tour with a more modern gallery wall featuring vintage seashell prints. This small slice of wall is between my living room and dining room. I framed these vintage seashell botanicals in more modern black frames with a white mat.

thank you for visiting my vintage modern summer home
As a thank you for visiting my tour today, I'm sharing these vintage seashell prints with you! You can find them in my Free Printable Library! The pdf file has two versions of six vintage seashells. One version with a light background and the other with a black background like I used. They are sized as 11″ x 14″ prints. You can have them printed at your local copy center on ledger cardstock (11″ x 17″) for just a few cents each.

And, don't forget to visit the other tours listed below this week! Next up on today's schedule is Marty from A Stroll Thru Life! Marty has an elegant, traditional style and you will love seeing the summer touches she has added to her beautiful home.
Monday June 7

A Stroll Thru Life – Worthing Court – A Pretty Life – Pink Peppermint Design – StoneGable – Hymns & Verses
Tuesday June 8

Southern State of Mind – This Is Our Bliss – Up To Date Interiors – It All Started With Paint – Decor To Adore – Cuckoo4Design
Wednesday June 9

Remodelando la Casa – Whispering Pines Homestead – Cassie Bustamante – Inspiration For Moms – Making It In The Mountains – White Arrows Home
Thursday June 10

Our Southern Home – CitrineLiving – The Wood Grain Cottage – Grace In My Space – Thrifty and Chic – Designing Vibes
Friday June 11

Casa Watkins Living – Follow The Yellow Brick Home – Chalking Up Success – Bloom in the Black – Quarters One – Clean and Scentsible
Subscribe to my blog to get exclusive downloadable prints!