Here's some fall inspiration for your home! I've gone through all of my past years fall content to choose my absolute favorites! I hope seeing these ideas will inspire you to step outside the box as you add fall touches to your home this fall season!
Fall Inspiration for Your Home
A grouping of three is key
This photo goes back to 2014 and wasn't even in a fall post! Rather, it was a post about this painted highboy dresser! But, I wanted to share it because it shows how great a basket tray with three pumpkins lined up looks! A grouping of three is key!
easy felted wool placecards
For this felted pumpkin place card, I used a felted pumpkin fall garland from HomeGoods. I just cut the garland apart and removed the original green felt pumpkin stems and replaced them with a twig. Then, I picked up little tags at the craft store and tied them to the stems. I see these felted garlands every year at HomeGoods, TJ Maxx, Marshall's, and Ross stores. If you see one with felted candy corn or another fall shape, you could use those in the same way! You can see the whole post with photos of how I made this pumpkin place card in this post!
Natural Centerpiece with Grapevine Base
This photo was shared in my 2015 Fall Home Tour. I wanted to show you how easy it would be to recreate this look for your home! I used a plain grapevine wreath as a base. Then, I nestled one large white pumpkin and two smaller white pumpkins and one small gourd into the wreath. The finishing touch are some real branches tucked into the grapevine wreath. This would make a beautiful, natural centerpiece for a table!
The statement pumpkin
This photo and the next two are from my 2016 Fall Home Tour. Here's another simple way to decorate for the season – the statement pumpkin! With all of the amazing heirloom pumpkins we are seeing, go out and find yourself one that makes a statement all on it's own! I used this rustic wood slab riser to display this Cinderella Pumpkin on my dining room table! Nothing else is needed!
It doesn't have to be orange to be Fall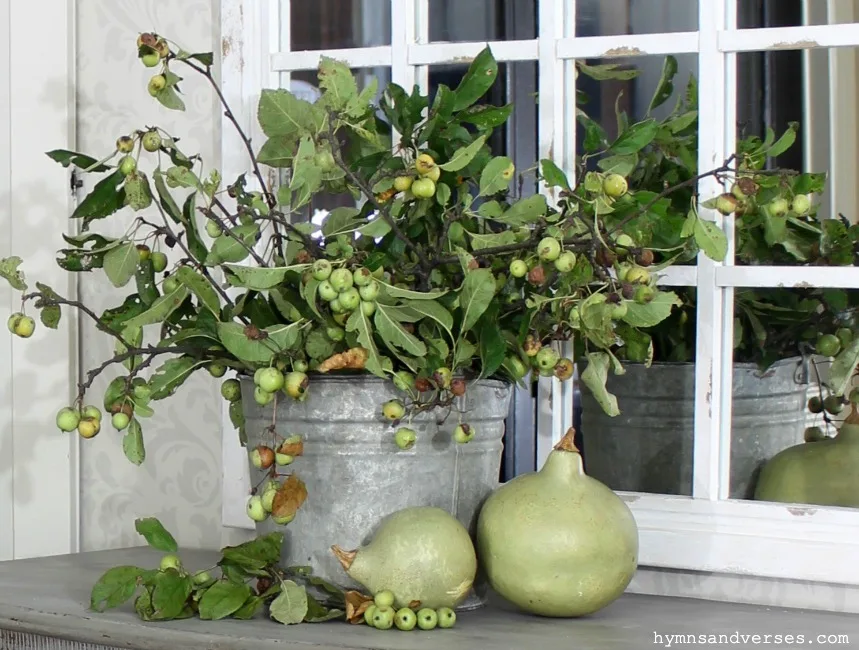 Instead of buying faux fall leaf and berry stems from the craft store, why not make an arrangement with real branches! This arrangement of green crabapple branches with green gourds is another one of my fall favorites! And, it shows that it doesn't have to be orange to be fall!
For this fall arrangement I went to my local garden nursery and purchased a fall sedum plant with these gorgeous plum shades! Did I plant it outside – no! I cut it apart and made this stunning arrangement with a few branches from my yard! I probably should have planted it before trimming it because I wish I could have these plum shades every year! Lesson learned! But, all that to say that you don't have to go to the florist or purchase grocery store flowers to create a floral arrangement! Stop by the garden center to see if something unique catches your eye! The footed bowl is a thrifted find and the mercury glass pumpkins and silver pheasants were purchased at HomeGoods.
Foraged Fall
Here is another example of using natural items to create a fall arrangement. I used this low, long and narrow wood trough container for this natural mantel display. In the center is a small ornamental cabbage and on either side are dried hydrangea, burgundy celosia, berry and leaf branches, and fall grasses.
Don't forget the nuts
This photo is another one from 2016 and was on my screen porch that year. I wanted to share it to remind you that walnuts and other nuts are great to display in the fall season! You can see a tiny glimpse of the galvanised lantern beside the hydrangea arrangement. I used walnuts at the base of the lantern and nestled the candle into them. And, can you tell me what my arrangement container is? It's the lid from a milk can from the farm where I grew up!
Fall apple ideas
And, don't forget about apples! This photo was from an apple tablescape I created in 2016. I used vintage dessert cups, but you could use any small dish you have on hand to recreate this look. An apple and some dried hydrangea is all you need! And, the bay leaf place cards add a sweet touch! I used a gold marker, but you could use a black felt tip marker to write on the leaf instead.
And, here's another fall apple tablescape from 2018! For this one, I used apples as a vase filler in a clear glass vase. And, the buffalo check tablecloth isn't a tablecloth. It's a blanket!
Fall leaves
Here's another easy idea from my 2017 Fall Home Tour. I found some free fall leaf images online, printed them on letter sized paper and taped them to the wall with decorative Washi tape. No frames needed! If you would like to use these images, the link is in the original post! And, doesn't my sofa look good in that original tobacco velvet!
Here's another leaf branch arrangement! This is from 2017 on my Fall Screen Porch. I collected these leaves from my inlaw's home! And, it doesn't matter if they are still a bit green! The wood container used here is really a planter. Check your garden shed for a planter to use for a larger arrangement of fall branches! I didn't have any water in this container because I wanted the leaves to dry naturally!
That same year I used these leaves to circle around a large, white pumpkin! I wish I had used a real pumpkin here, but probably couldn't find one that year. So, if you can't find the pumpkin of your dreams – paint a faux one the color you want! I believe I purchased this pumpkin at Target and it was bright orange! But, it looks a lot better with some white chalk paint!
A grouping makes a statement
This mantel from my 2018 Fall Tour is an example of using varying shades of one color to make a big statement! I gathered a variety of green heirloom pumpkins and squash for this mantel. And, the printable autumn sign enhances the green of these pumpkins.
How one can also make a statement
And, just as a grouping of pumpkins in one color makes a statement, here's another example where one pumpkin shines on it's own! This photo from 2019's Fall Living Room features a bright orange pumpkin! It's the only bright color in the room, which makes it a focal standout on the mantel!
I hope that I've given you some Fall inspiration from these examples in my home over the years! And, please be sure to pin what inspires you so you have it in the future! I hope to share more fall inspiration with you over the coming weeks! So, stay tuned!