Happy Monday! Today, I decided I would give you some creative ideas to stay busy at home. Since many are now home from work, I thought this post would be timely.. Some of these are actually free classes taught by other bloggers. I have to say, I'm so encouraged by how these creative bloggers are giving of their time and talents to pour into others at this time. Then, I shared some ideas from my own DIY archives that you can try. And, finally, there are some creative craft kits that I found on Amazon that might interest you.
* This post contains some affiliate links. Please see my full disclosure statement HERE.
FREE Creative CLASSES on instagram
Miss Mustard Seed is going to teach a live online class on oil painting for beginners – and it's FREE! She will be teaching this live class on her Facebook page. You can find all of the details, including the supplies you will need, in this blog post. And, she is also going to share how to crochet a dishcloth, I believe, on Instagram stories. Here is a link to Miss Mustard Seed's Instagram Page. She already shared that you will need a 5 mm. crochet hook and this sugar and cream yarn. I ordered both on Amazon because I love the dishcloths that she crocheted and shared in this post on her blog.
Another of my creative blogger friends, Lucy of Craftberry Bush, is also talented artist. She is giving free watercolor lessons on her Instagram page. She has already shared two lessons. The first lesson includes what you need as far as paper, brushes, and paint. Visit Lucy on her Instagram Page and you'll find the watercolor lessons in the circled highlights on her main page.
This one isn't really a class, but if you like to cook, my friend Cindy of The Vintage Road shares her daily dinner recipes on her Instagram stories. She does all of the prep and cooking while you watch and then shows you the finished dish and how her family liked it. I'm always inspired by what she shares! And, aren't we all looking for some new recipes! Stop over to get some fresh meal ideas from Cindy!
CREATIVE ideas from Hymns and Verses
Here are some DIY projects from my blog archives that you can make. You probably already have what you need for some of these projects. Some projects can be adapted to use things that you have. For example, instead of using willow branches for the willow branch cage planter, use some other kind of branch you find in your yard. In other words, use these projects as inspiration!
If you don't have what you need for the project, remember you can always order supplies online and have them delivered. I would take proper precautions before bringing packages inside your home. Personally, I am using throw away gloves to open packages on my porch and leaving the boxes in our garage until trash day (to air them out). This was recommended by a physician's assistant and I think it's a good idea.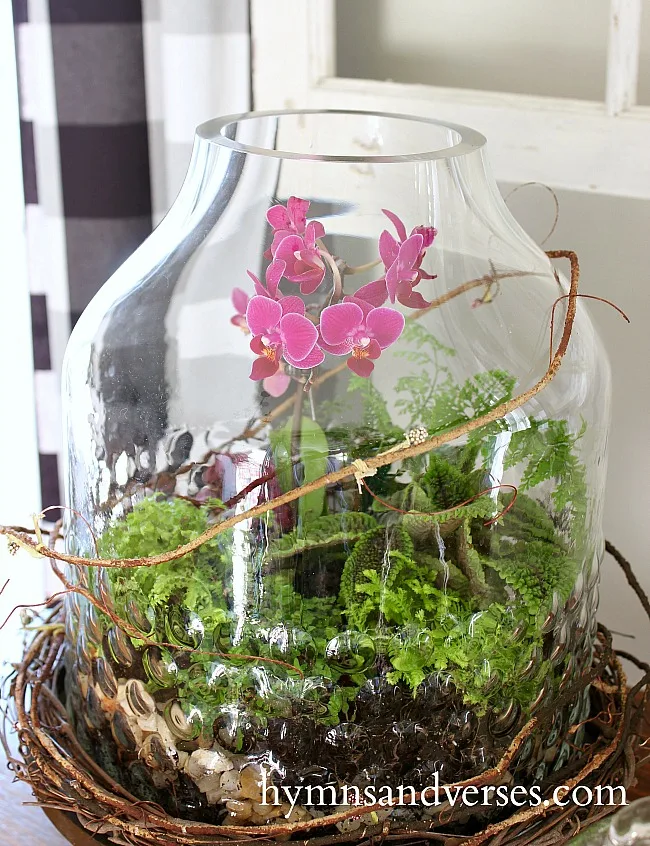 Glitter Music Sheet Easter Eggs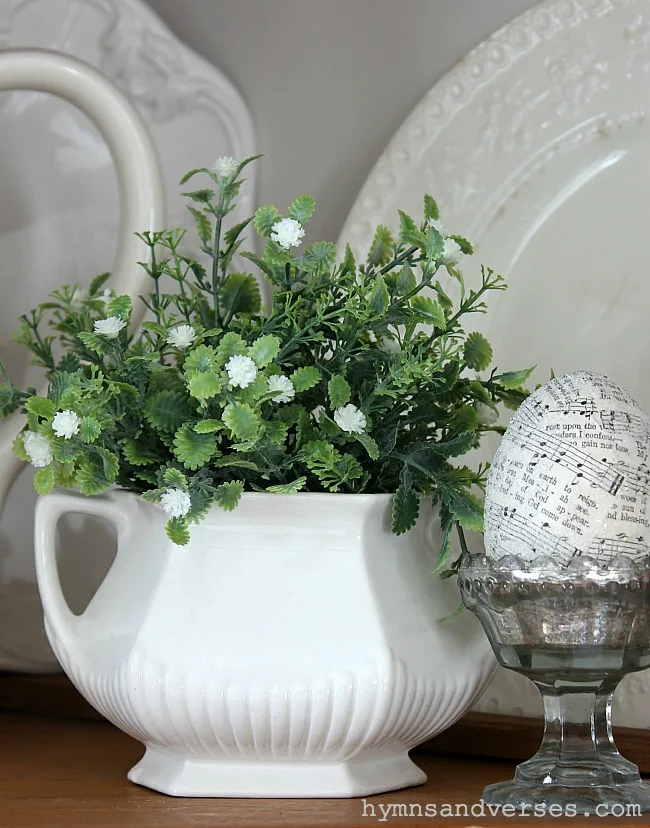 'Easter's on its Way' Printable Bunny Banner
DIY KITS YOU CAN BUY ON AMAZON
My Father-in-Law has received these kits as gifts and they are really cool. If you have a husband at home that isn't used to just being at home and out of work, he may like putting one of these kits together!
Pink Picasso Paint by Number Kits
Paint by number is back! I can remember my older sister loving paint by number in the 70's! Those vintage paint by number pieces have gained popularity in decorating! I have a few decor blogging friends who have vintage paint by number art featured prominently in their homes! I discovered these newer paint by number kits by Pink Picasso and they are just lovely!
Vintage embroidered designs are also finding a resurgence in home decor. I think it all goes to the hand crafted aspect of these art pieces. A lot of them are florals. And, this craft is also finding a resurgence in popularity. Millennials in particular are smitten with this old-fashioned craft!
Personalised Family Cross Stitch Kit
I am thinking about ordering this kit. I like the entire concept! And, these family designs won't take too long.
Brush Lettering Calligraphy Starter Set for Beginners
This kit has everything – an instruction booklet, sketchbook with tracing paper, 6 brush pens and more! If you would like to hand letter, this is a great set for a beginner.
I hope that these creative ideas will inspire you to use this time to make something with your hands or learn a new skill! I know I'm excited to take Miss Mustard Seed's oil painting class on Facebook!