Hi, Friends!  Wow, this year is flying by already for me!  I don't know about you, but I seriously need to get organized this year!  I created a Free 2017 printable planner to help me stay on track with my blog goals.  Another thing I'm working on is a full year editorial calendar – planning out a whole year of posts to share with you!  I think that is really going to help me to post more regularly, which has been a goal for the past, ugh .  .  .  four years!!!    This is something new that I've never tried, so I'm hopeful that it will be a huge benefit!  But, for today, I wanted to share the planner pages I created for me  – and for you!  The first thing I did was create a theme, which turned out to be a Bible verse – 1 Corinthians 10:31 "Whatever you do, do all to the Glory of God".  This is a verse I quoted to my kids when they were younger a LOT!  But, it applies to us all doesn't it!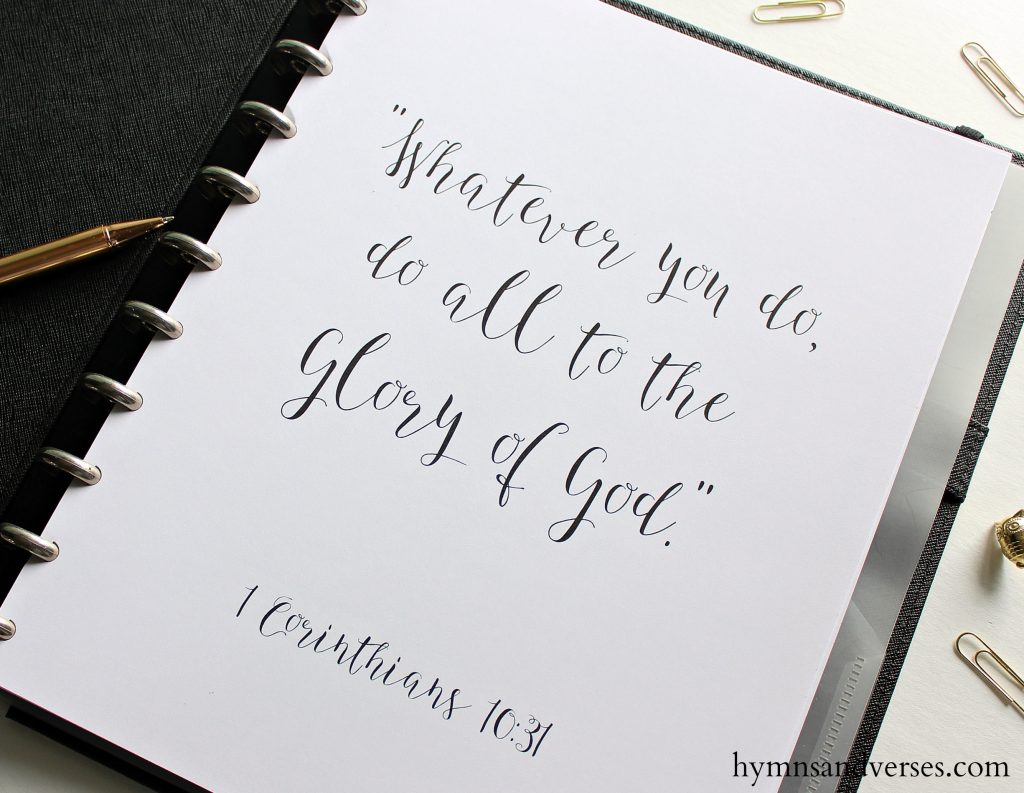 I also created a contacts page and a page to keep track of user names and passwords.  As a blogger, I really need these pages, but I think they will be useful to you as well.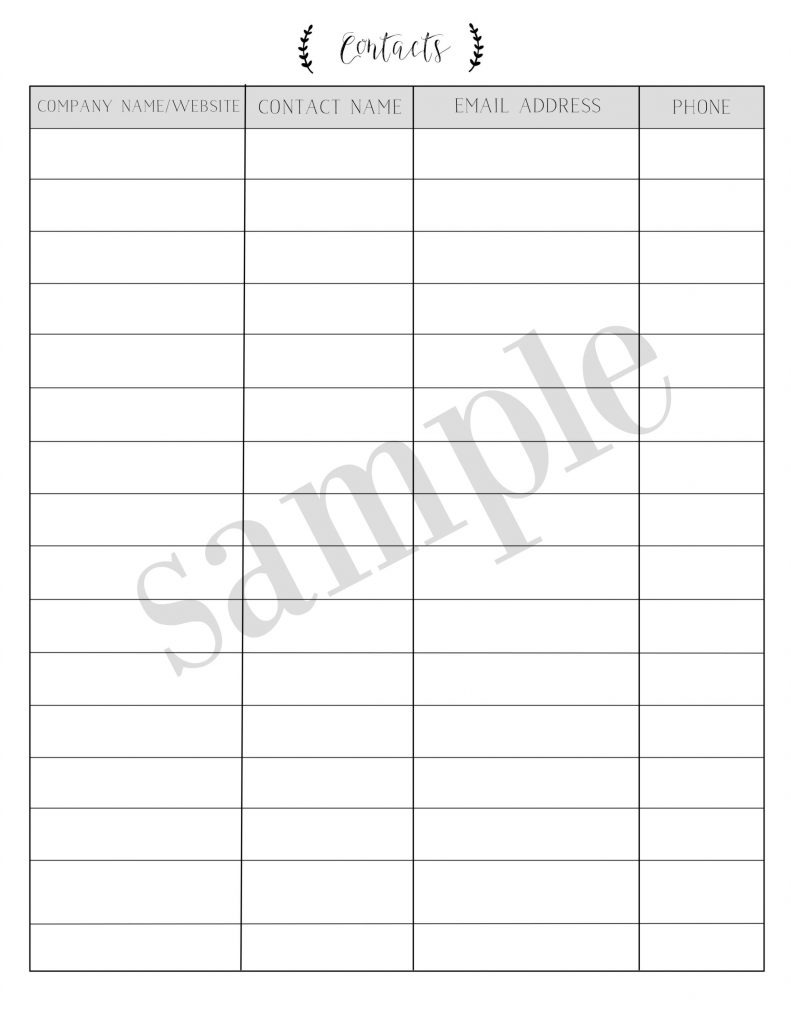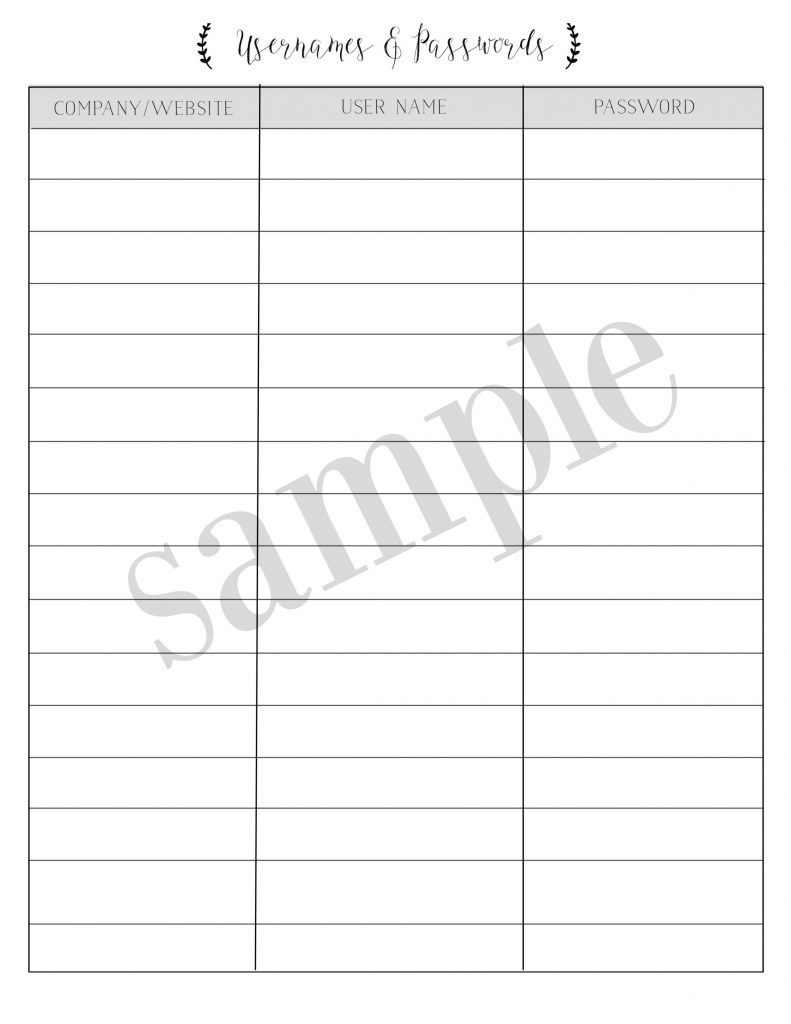 There are two pages for each week.  You can fill in the date at the top left hand corner of the first page.  There are spaces for notes, emails and calls.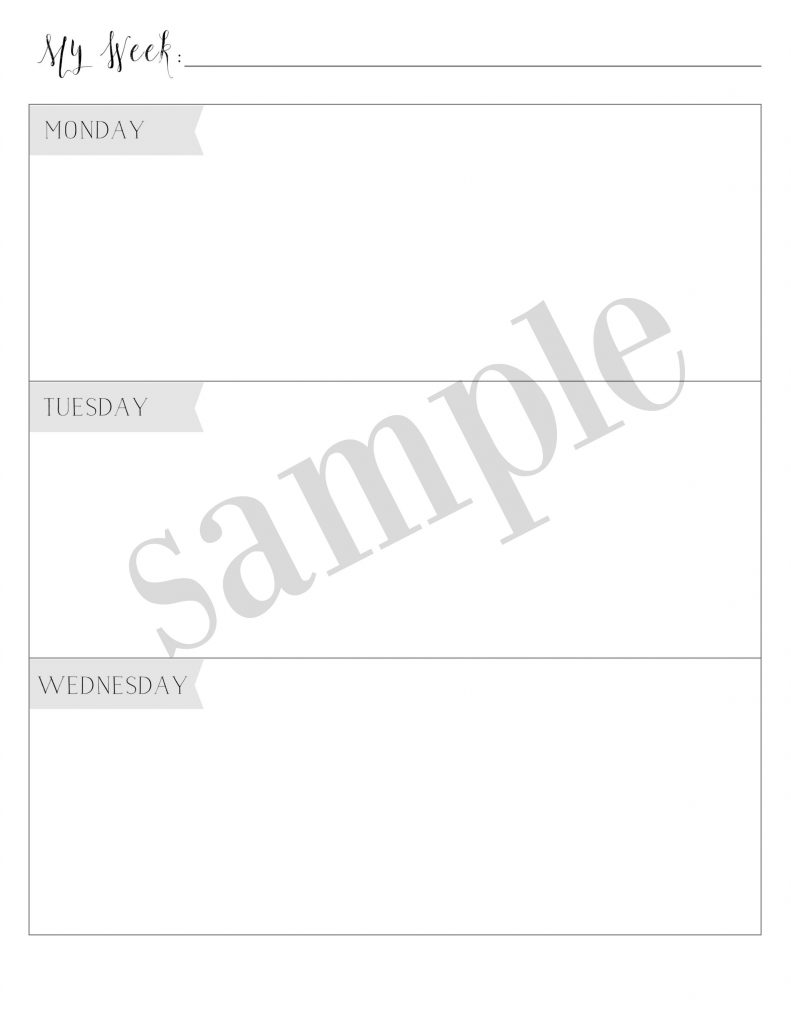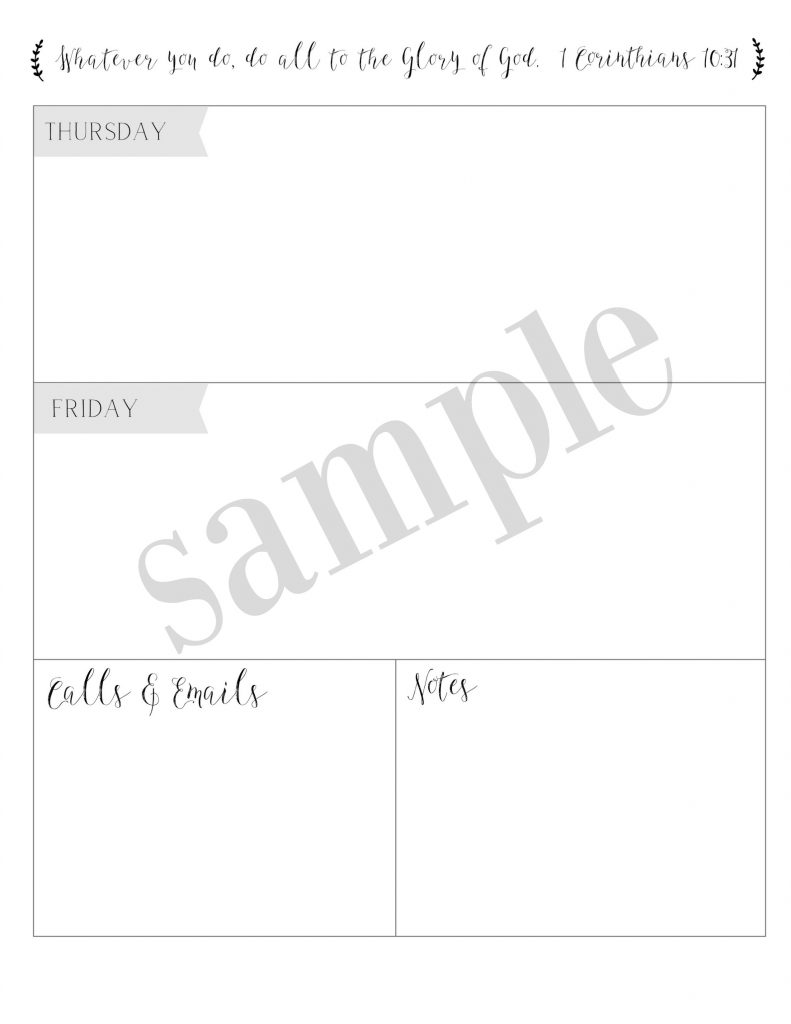 I've saved the best for last, a Daily Tasks page.  This is something new that I'm trying this year – 5 things that I need to complete in a day.  I think this list will help me to prioritize what I really need to accomplish and keep focused on those things.  As a creative person, I'm so easily distracted by new ideas and end up following rabbit trails on Pinterest, Craigslist, Facebook, Instagram .   .   .   and then I end up feeling defeated each evening when I didn't accomplish what I needed to that day!  There's space for phone calls and emails and a space for errands and appointments.   If I don't complete an item on my list, then they get added to the top of the list for the next day  ("tomorrow is another day"  Scarlett O'Hara)!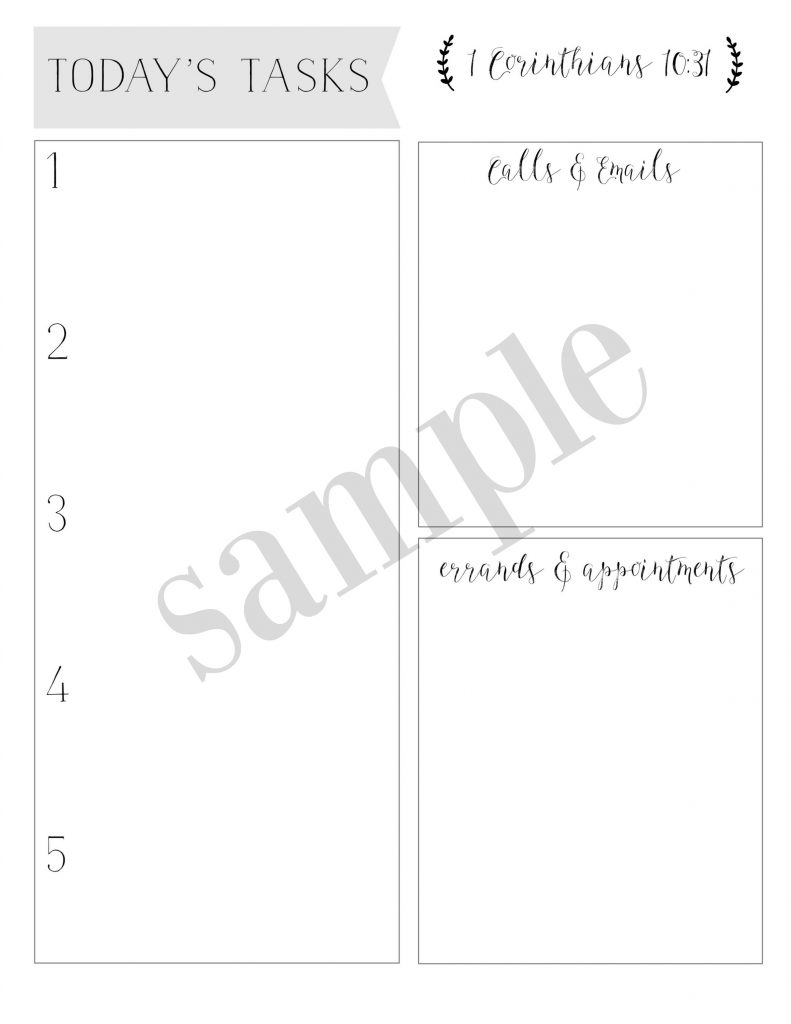 Here's a guide for printing that I used.
Page 1 COVER PAGE
Page 1 Reverse CONTACTS
Page 2 USER NAMES AND PASSWORDS
Page 2 Reverse MY WEEK MONDAY – WEDNESDAY
Page 3 MY WEEK THURSDAY – FRIDAY
Page 3 Reverse TODAY'S TASKS
Page 4 TODAY'S TASKS
Page 4 Reverse TODAY'S TASKS
Page 5 TODAY'S TASKS
Page 5 Reverse TODAY'S TASKS
Page 6 TODAY'S TASKS
Page 6 Reverse Repeat MY WEEK MONDAY – WEDNESDAY
Page 7 Repeat MY WEEK THURSDAY – FRIDAY
Page 7 Reverse Today's TASKS
Continue to Repeat the Today's Tasks and My Week pages as above.
I created a little video that will show you how I ordered the pages of the free 2017 printable planner.  Sometimes it helps to see it visually.  It also shows you the planner system that I use.
The planner system I use is the Arc customizable notebook system.  I love it because the pages stay flat, it's totally customizable, it's a discbound system, (the pages turn easily with no catching) and you can easily add pages with the Arc hole punch.  It's leather bound, heavy duty and great quality.  I purchased mine last year and it still looks brand new!  Click HERE to see more about it.  I also showed the Arc hole punch in the video and you will need this type of punch if you use this system.  Why spend the extra money for this type of system?  I did because I really like the low profile of this binder, compared to a typical three ring binder.  It lays flat and is not bulky and the pages don't catch when you turn them.
I hope you find this planner useful!  Click on the link below to download and print the planner.  All of the pages are available to print.  You can print them all or just the ones you want.  I've already started to use my planner and love it!   Please let me know if you have any questions!

CLICK HERE TO DOWNLOAD  and PRINT
I also created  2017 Monthly Printable Calendar Pages with a scripture verse to memorize each month.  These calendar pages are great to use on a clipboard and hang near your desk!  You can download and print those pages by subscribing to my blog!  It's free – just enter your email and name in the box at the end of this post!  Once you complete the sign-up process, you'll receive the link to the calendar pages in your email and then you'll get my newest posts delivered to your email as well!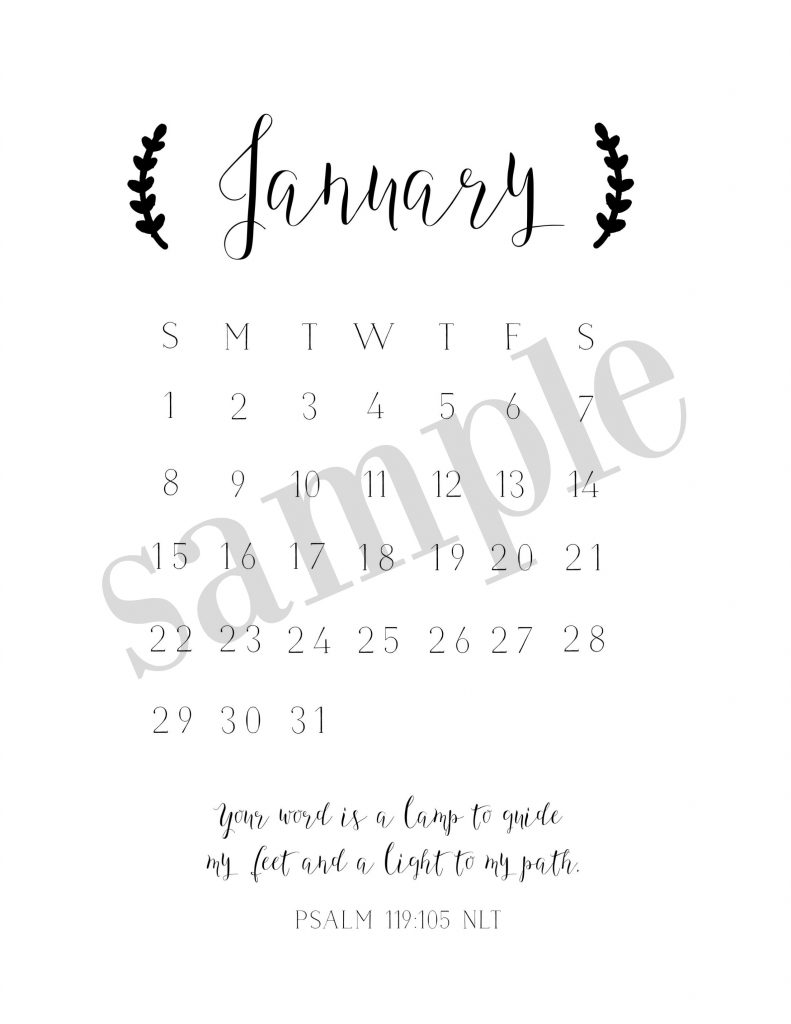 TIP:  To save the ink in your home printer, you could have any of these pages printed at your local copy center.  I had the daily tasks page and the weekly calendar pages printed in a larger quantity that way.